Looking for the best free 3D Printed Toys for kids (and their print files)? We reviewed over 1000 models on Thingiverse and Printables to find you the top 20 free print files (.STLs) to create 3D Printed toys for kids and toddlers… so you don't have to.
Do you know what's great about 3D Printed Toys? You can download free designs, slice the model, hit print, and in the morning have a new toy for your child that'll excite them and cost you pennies.
There are tons of 3D-printed toys for kids and it's difficult to know what's worth printing. So we scoured the internet, searching multiple repositories and over 1000 models to find you the best 3D printed toys for kids on the internet.
If you'd like to search for yourself, check out our list of 30+ sites to get free or cheap 3d printed models.
3D Printed Toys for kids
2. Fire Truck Toy
Is your child already showing signs of being a car enthusiast? If yes, then this fire truck toy is perfect. You'll only need to download the STL file and let your 3D printer do its magic.
All the parts to this printable toy will fit on a 200mm by 200mm printing bed. You won't need any support while printing except for the ladder.
This fire truck toy is perfect for toddlers because it does not have small parts or screws that can pose a choking risk.
Head over to Thingiverse and enjoy printing this lovely toy with your child.
3. 3D printed Bird Whistle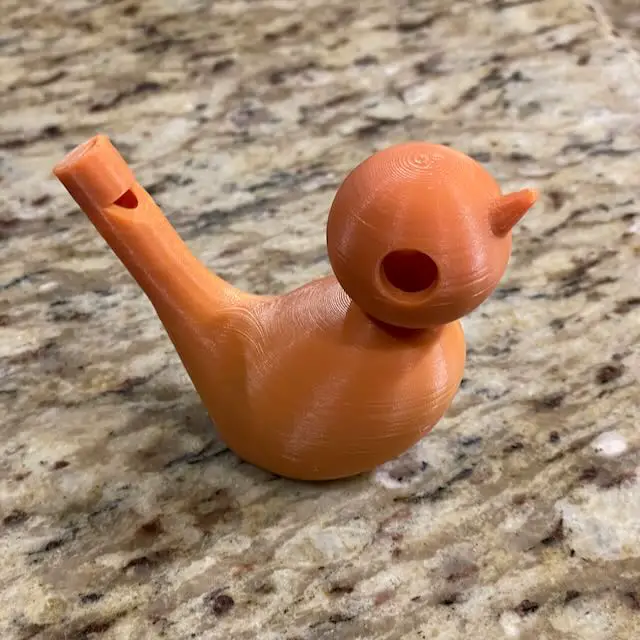 I just 3D printed this bird whistle toy out of Rainbow PLA and my daughter loves it. Unfortunately, my rainbow PLA didn't actually change color – but that's a story for another day.
Printing was easy. I like Prusa Slicer over Cura because I'm more used to it. Since I was 3d printing this for my toddler, I increased the perimeters and infill a bit for added strength.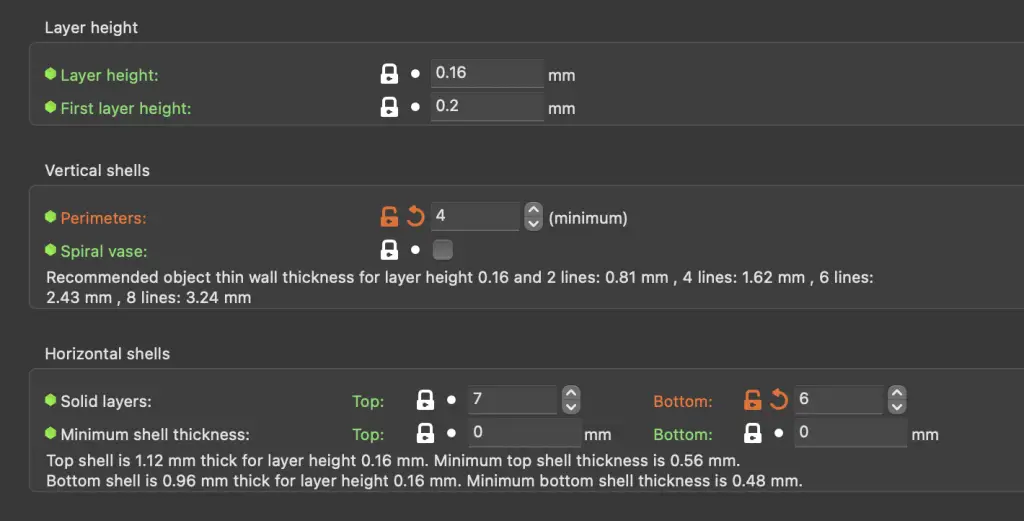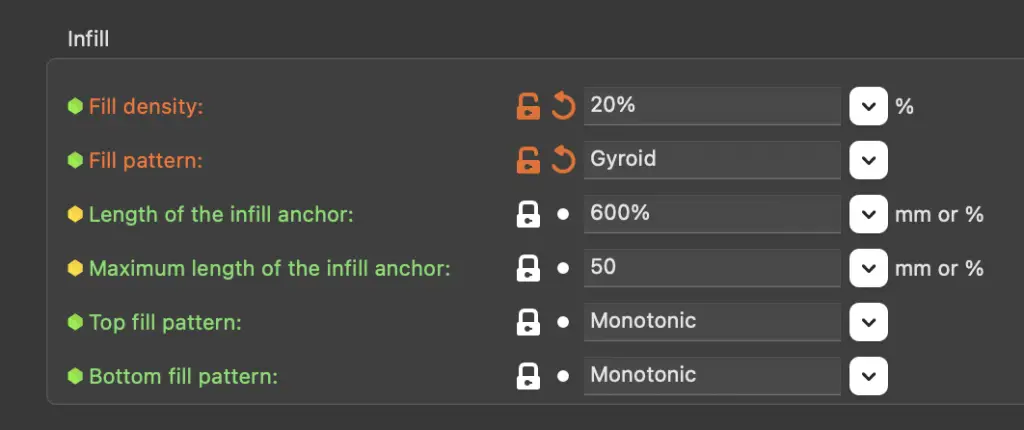 You can find the bird whistle model here on Printables: https://www.printables.com/model/124286-bird-whistle/files
4. Math Spinner 3d Printed Toy
Almost all of us want our children to excel in STEM subjects. This Math spinning toy is the best learning tool you can print for your kid.
To 3D print this toy, you'll need two end caps, any math symbol, four numbers, an equal sign, and a centerpiece.
If you have a larger printing platform, it's also possible to add six more numbers. With a bigger Math spinning toy, you can solve more challenging mathematical problems with your child.
5. VeggieMake
Is your child learning about veggies? Does your kid refuse to eat vegetables? If yes to one or both questions, this VeggieMake 3D print will help you and your child transform all vegetables into cute characters.
You'll quickly 3D print multiple parts such as feet, hands, eyes, nose, and mouth. You don't need any support features for these prints.
It's like a real-life Mr Potato Head.
Now go ahead and help your kid learn the different types of vegetables in a fun and creative way.
6. Fish Fossils Toy
You'll create a wiggly little fish for your child with this design. It's an easy, print-in-place print that only uses about 13g of filament.
For this 3D print, it's possible to work with a raft or without – though a raft is recommended. But be sure not to use supports on this one or the joints will stick and you'll get no flex.
Fish fossil toys appeal to both kids and adults.
7. Assorted Christmas Toys
Most parents don't know which toys to decorate the house or the Christmas tree during the Christmas season.
Now you can 3D print assorted toys at the comfort of your printer – and save some money, too.
To print these toys, you'll need about 15g of filament and a resolution of 0.2 mm. No rafts or support features are necessary when printing. You can print the complete set of three toys at once (though be sure to have your retraction settings dialed in).
To separate them after printing, remove the supports on the chins of the elf and then rotate his head. After printing, use acrylic modeling paint to paint.
Be your child's Santa this coming Christmas with these awesome toys.
8. Puzzle Plane
Are you looking for a DIY project where you can involve the kids as well? Grab your tools and 3D print this cute puzzle plane.
You'll need plastic, magnets, and sticking glue to create this design. While at it, be cautious if you're working with kids below three years because the little magnets can choke them.
Let your child imagine being the pilot they always want to become using this toy.
9. Toy Boat
If you have one of those kids that hate bath time, this toy boat can calm them down when bathing. The toy is also perfect if your kid enjoys playing in the sand or water.
The toy is safe for kids 0-3 years because it doesn't have small parts that can choke them. Now head over to Thingiverse and download the STL files for this awesome toy.
When testing out this toy, we used different colors and came up with a collection of colorful boats.
We also discovered that 20% infill is the best, and if you use 50% infill, the boat won't float. You can also make the bottom layers with denser infill to make the boat more bottom-heavy and stable.
10. Giraffe Toy
Babies love feeding giraffes at the zoo, but what if they could have a toy giraffe to hold all the time?
You can print this plastic toy without using any support structure. However, you need to angle the nose well so that you won't need any support.
While printing this lovely giraffe, use a 0.2 mm layer height and 10-20 percent infill for the best results.
Besides being a great toy for kids, this giraffe toy can also serve as a family collection or gift to your family or friends.
11. "The Revolver" Toy
The revolver puzzle toy game is ideal for small and older kids. It helps them match colors either in rows or columns. If you want a different version of the toy, you can print it in only one color but then have six indented shapes to match.
You'll need about six filament colors to come up with the toy. The best color for the retainer part of these sets of toys is black.
Download the file for the exact measurements and details of twists you can add to your toy.
12. Monster Truck Toy
We cannot complete a list of the best 3D printable toys for kids without including this amazing monster truck. The body and the suspension
As one part while the wheels print as a different part. Hubcaps serve as rims. We recommend using PLA instead of a flexible filament for this toy.
This monster truck is durable and perfect for adventurous kids. It also gives you room to get creative as you print in different colors.
13. GO-GO AirBoat
Part 3d printed toy, part STEM science fair project, this GO-GO AirBoat by Macakat is one very cool project.
To pull from their project files:
[The] GO-GO AirBoat is a payload-sensing, motorized, propeller airboat.

When GO-GO AirBoat reaches full capacity, watch the motor rev to life, spinning the propeller, and watch GO-GO go! How many pennies can you load before GO-GO goes? Will it sink or will it float? Load your lifesavings aboard, and wave "Bon voyage!" to your GO-GO AirBoat!
Print this to help teach your kids electronics, fluid dynamics (or at least, the concept of buoyancy), and about airboats.
It's a very cool 3d printing project that I can't wait to do with my daughter.
14. Finger Digger
It's a little difficult to tell in this picture, but this 3d printed toy is a little mechanical "digger" (that's the bucket in the lower right) that is controlled by fingertips.
Use it with the sand playset for extra fun.
15. 3D-printable sand playset
Given how cheap sand toys can be, these look like they're best for when you're in a pinch and need to replace one before an upcoming trip.
It's always nice to be able to make or customize your own toys, though. Use these for inspiration and remix or create your own custom shapes (such as your child's name, perhaps?)
16. 3d printed Rubber Duck bathtub toy
I'm literally singing "Rubber ducky, you're the one…" by Earnie from Sesame Street right now.
It's important to print the first 20 layers completely solid or at least at 65% infill (we love gyroid infill, of course) to keep the ducky floating upright. Then slice the rest at a low infill percentage or use a modifier block with Prusa Slicer and "lightning" infill for the remainder of the duck.
This one was quite a challenge to print, but my 3-year-old was very excited to get to play with it.
A simple 3D-printed bathtime toy!
17. OpenRC Tractor – a 3D printed RC Tractor
This thing is COOL. We've covered 3D printed RC planes – now you can create an RC tractor with this open-source project.
If you go to Makit's website, you can also print accessories such as a water tank, track tires (like a tank), and more.
While not small builds, what kid doesn't love a tractor to play with at the beach or in the backyard?
18. 3D printed Toy Tools
For Christmas, I got my daughter a toy tool workbench (she LOVES it).
Now I can print replacements for when they break using these simple, effective toy tools by vd_max.
19. Flying Propeller / Pull Copter 3d Printed toy
Remember these from when you were a kid? My daughter got sick so I printed this out to keep her entertained.
For all the parts I ended up printing them solid by using a minimum of 6 paremeters (which is better than 100% infill). I also printed the pulling piece twice, once in red PLA and once with that I found on Amazon.
I printed the bladed "copter" in the same cheap, black TPU.
Lots of fun for the kid.
20. Incredible Bubble Straw
My heart still warms at the video of my (at the time) 16 month old daughter: "Honey, what's this?" (Her, gleeful) "buhbas".
Nearly every kid loves bubbles, so when I saw this 3D printed bubble wand I immediately whipped out my roll of Inland Pink PLA and got printing.
BOY does this thing spit bubbles… and my three year old loves it.
I kept most settings pretty standard except I used for 4 perimeters and 25% infill. Hopefully you've run a temperature tower and retraction test for your filament, because these small tangs can get stringy.
Why Make 3D Printed Toys for Kids?
Here are some of the reasons you should start 3D printing toys for your children.
Feed their Curiosity
If you're like many parents you might wonder "How is this made" when it comes to toys.
Or you might be so tired you don't care.
Either way, what if you could make toys with your children, at home?
Or even combine models and remix ideas with them? That's how you feed their curiosity and get them interested in STEM early.
Enhances Learning
3D printed toys also work as learning materials.
Whether you want to teach math, language, critical thinking, geography, or even astronomy, you'll find all types of designs for 3D print toys to enhance learning. Kids are visual, and they learn better with toys and puzzles.
It's Cheaper
The cost of 3D-printed toys is often less than those manufactured in a factory.
It allows you to have new toys for your children much more often than going to the store – yet without paying more money.
Plus, it's a lot more meaningful.
Print your child's favorite toys at a fraction of the cost and give them something to cherish at the same time ("Mommy/Daddy made this for me!")
It will Keep your Kids Busy
Kids get bored easily and want something to play with or experiment with.
3D toys can engage your child in constructive play, distracting them from excess screen time. If you involve your child in the printing process it will make them feel that their input is valued.
Love for STEM Subjects
3D printed toys will expose your child to science, technology, engineering, and math subjects while being fun.
In the process of printing, they will learn about manufacturing, creativity, and problem-solving. Take it from me, being able to have an idea and then hold it can develop a passion for these fields.
Teaches Resilience and Diagnosis Skills
3D printing is often a trial-and-error process.
If you're a 3D printing enthusiast, you know that failing is part of the process.
Frustrating, but part of the process.
But, even when you fail, you learn, adjust, and try to create the item again.
By involving your child in these trial and error methods you can teach them not to give up when things don't work their way.
Plus, they'll start to learn how to diagnose problems and systematically work towards fixing them – useful for all aspects of life.
Frequently Asked Questions
Wrap Up
3D printed toys for kids are ideal if you want to raise creative children. There are many toys you can experiment with. Whether you want to print a toy car, a puzzle game, or an animal toy, this guide has some of the best 3D printed toys.
If you liked this article, you might also like our list of super unique 3d printed fidget toys you can print by tonight.