If you're reading an article about a 3D printed RC plane, chances are you already know how awesome printing stuff at home can be. Home printing setups have exploded in both popularity and power over the past several years and it's easier than ever to get started with all the free 3d printing files available.
What was once a fringe hobby for overly techie enthusiasts is now a viable way to print equipment, parts, and toys at home. The latter is what we'll be discussing today. More specifically, the remote control plane variety.
There's a surprising number of options available for 3D printed RC planes. A handful of companies have attempted to pounce on the market. On this page, we'll explore some of the best options out there right now.
From fully 3D-printed models to semi-constructed builds, we've got you covered. Read on to find your favorite today. Also be sure to read through our 'things to consider' section. It's designed to get you thinking about the kind of plane you're looking for so you can avoid disappointment when buying.
3D Printed RC Plane – Things to Consider
We get it – you just want to run out and get your hands on the first 3D printed RC plane you can find. While you'll probably get a half-decent model with this approach, it can pay to take things a little more slowly.
It's important to find a plane that will work best for you. The kind of plane you should buy will depend on your setup at home, your requirements, and several other factors. Check out our tips below.
What You'll Need
Most companies worth their salt will provide info about what you need at home to print their RC planes. It's definitely worth paying close attention to these details before buying. The last thing you want to do is waste money on something you can't even print – trust us.
We outline some of the main things you'll need to think about below.
A Decent 3D Printer
Is your 3D printer up to the task? If you're running a super-budget model from 7+ years ago, you might want to double-check that your chosen plane is compatible. The volume and nozzle size of your printer will be two critical things to check.
If you don't find a plane that fits, don't worry. There are plenty of different shapes and sizes out there so you should be able to make something work.
See the best 3D printers under $300 here.
The Right Filaments or Components
What filaments or resins does the manufacturer recommend? In most cases, these RC plane models can be printed with a variety of different materials, but it's worth double-checking this before pulling the trigger.
Using the wrong material could mean that your plane fails to work as advertised or breaks far too easily.
Enough Space
This tip applies to both your printing process and your flying process later on. Some models listed on this page will need a little bit of wiggle room to print effectively. We're not talking whole workshop spaces here, but it's worth thinking twice if you have a super-cramped setup.
Once you've printed your plane, make sure you're flying it either outdoors or in a very spacious room. Flying in enclosed areas is how you cause damage to your plane and other possessions!
How Much Post-Printing Work is Required?
Buyer beware – some 3D printed RC plane models require a fair bit of post-printing work. This is to be expected of most projects to a degree, but the amount of work required can vary quite a bit.
Check to see how many additional tools, materials, and hours you'll need before you've got your plane up and running. Look for terms like 'fully' or 'semi' printable when shopping. Fully printable models sometimes require a bit more experience, but can be much less hassle if you get things right.
Costs
As with any purchase, it's important to shop around to make sure you're getting the best deal. Most planes in this category cost between $20-$30, so keep this in mind to avoid getting stung. We list some of our favorite options below.
Our Favorite 3D Printed RC Planes
Right, let's get into it. The list below contains some of the best 3D printed RC planes out there right now. We've compared feature sets, printing process, quality, and online reviews to produce the suggestions on this page.
In our opinion, they represent fantastic value for money! Let's get into it.
F-84F THUNDERSTREAK
Make: 3D Print Gang
Easy to print? Relatively straight-forward if you know what you're doing, but you'll need a few extra parts like piano wire and hinges.
How do I get my hands on one? Here
First up is the F-84F Thunderstreak that's currently available via 3D Lab Print. It combines a stylish design with an effective little rotary drive system. Overall, the design here is pretty nifty. Once constructed, there are no visible linkages anywhere to be found.
Before forking out the $20 required to get your hands on this one, keep the following in mind. You'll need a printer with a "volume of 200x200x200 mm and a 0.4 mm nozzle". You'll also want to make sure you're proficient with Simplify3D as your purchase will provide factory files for this software.
You'll also get the STL files and gcode you need to get working. If you've already got a few projects under your belt, there shouldn't be anything here that slows you down too much. Just remember that you'll have to source things like a battery and hinges yourself.
A full user guide can be found via the link above.
Pros:
No visible linkages
Relatively easy to construct
No screws or glue required
Cons:
Eclipson – (Free Option)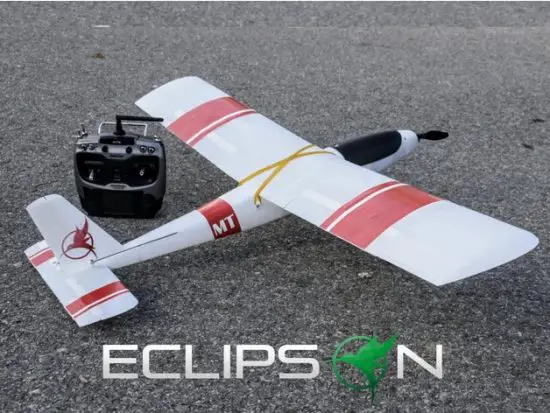 Make: Eclipson
Easy to print? It isn't rocket science but this is a free version of a model that's usually $20. You won't get official user guides or even the usual floating landing gears. That said, it's a relatively easy project that gets you a fun plane that's completely free!
How do I get my hands on one? Here
If you're not looking to spend any money, this option here might just be for you. There's a more 'premium' model of this plane available for $20 that includes more official support and plans for the gears that help it drive on water.
You won't be enjoying features like this with the free version, but this might not both you too much. You'll still get an awesome plane and your only cost will be from filament and extra parts.
The model for this plane uses almost 30 individual printed parts that combine with a single propeller and a bunch of other components like screws and motors. If you're wondering about the specific printer settings and filaments you should use, it's probably worth relying on sites like Thingiverse for this kind of project.
You'll be able to find posts from other users who describe the process they went through to get their desired print.
Pros:
It's free!
A fun, simple plane design
Cons:
Takes a little more work to get up and running
KRAGA KODO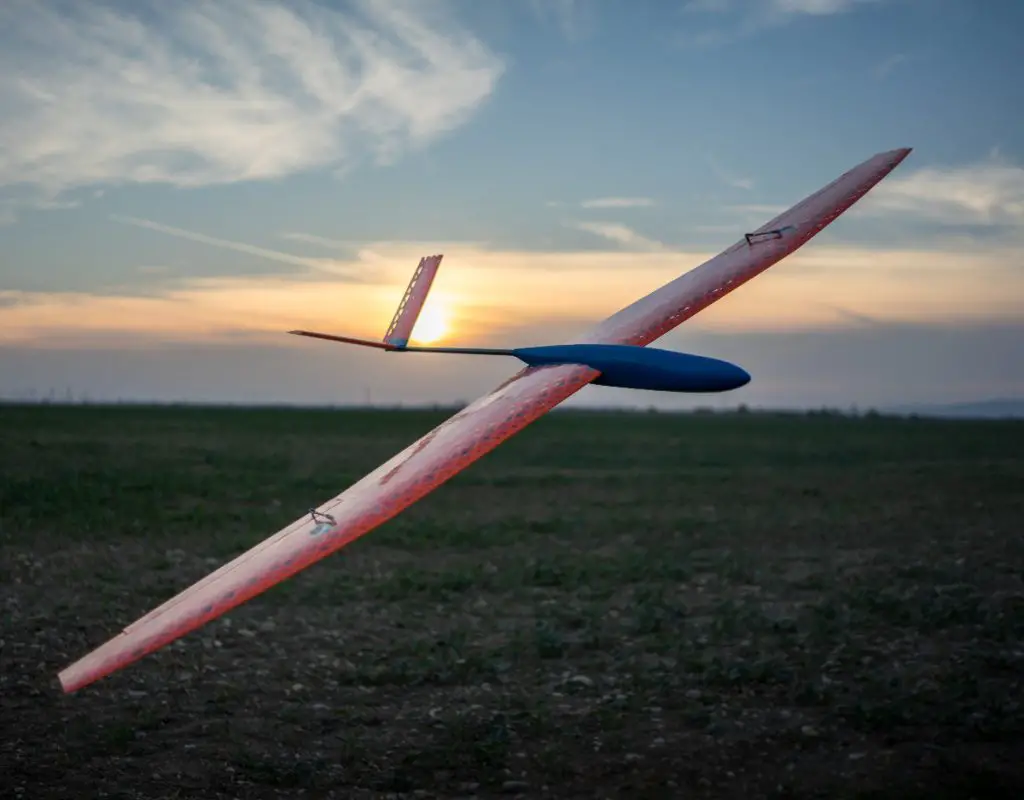 Make: Kraga
Easy to print? Designed to be fairly easy to print with included documentation upon purchase.
How do I get my hands on one? Here
The Kraga Kodo was built as a proof of concept to explore whether it was even possible to 3D print an RC plane with commercial printing equipment. If you ask us, the project has been a resounding success. This thing can be flown by a relative novice, but will really come into its own when controlled by someone with a little experience.
The design used here is pretty clever in our opinion. Looking for full-blown RC plane action? Attach a motor and you're well on your way! Want a more stripped-back, no-nonsense approach? The body can be used as an elegant glider toy instead.
It's all up to you! This is one of the more versatile models on our list in that it doesn't really matter what printing material you use to make it. You might need to tweak your settings a little between different filaments, but the body is simple enough that it should fly just fine no matter what you use.
Luckily, the build guide seems fairly comprehensive and should help you iron out any issues if necessary. Coming in at around $25, this is far from a 'budget' option, but it will be well worth the money for the right person.
Pros:
Works as both a glider or a motorized RC plane
Can be printed with basically any material
Great user guide
Cons:
Quite expensive
Construction can be a bit fiddly
SuperNova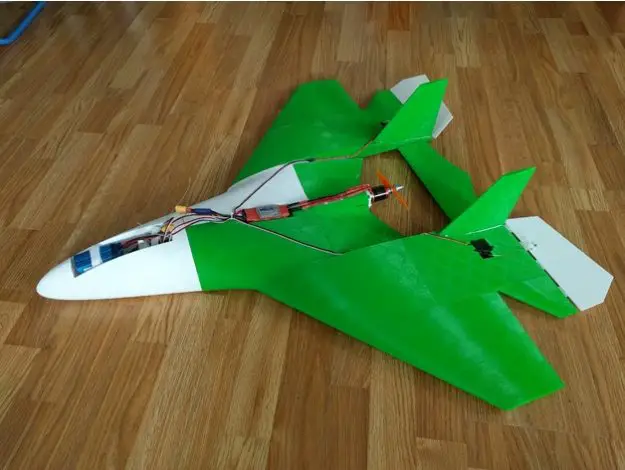 Make: Itek
Easy to print? Definitely buildable, but won't be without some trial and error.
How do I get my hands on one? Here
The appearance of this plane alone may be enough to convince you to start printing. It's modeled like an airforce craft and flies like a little rocket! If you're brand-new to printing projects like this, you might want to try something a little simpler first.
The schematics linked above are only for half a plane; you'll have to mirror the files and print them again to get everything you need. If you know how to manage this, however, the rest of the construction process should be relatively straight-forward.
When downloading everything, you'll notice a number of files that start with the word 'smaller.' This is to accommodate users with smaller setups. Specific measurements and user reports can be found via the Thingiverse link above.
Once printed, the whole plane usually weighs a little under 1.5kg and flies pretty well after a bit of practice.
Pros:
Free!
Looks super cool
Options for smaller printers available
Cons:
You'll have to mirror half the files to print a full plane
Plane Print Eagle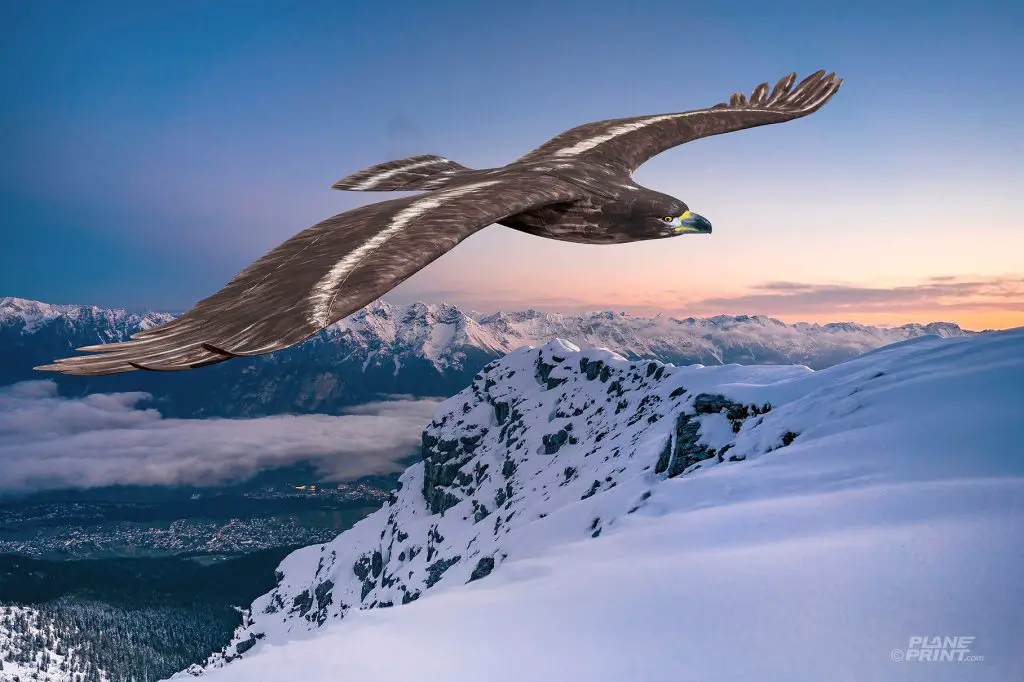 Make: Plane Print
Easy to print? This one features a fully 3D printable design and some incredible components. Just make sure you have the space to make it.
How do I get my hands on one? Here
Now for something a little different. This model from Plane Print looks like an eagle soaring through the skies. Underneath this unique appearance, however, is a fully functional RC plane that's super fun to operate and relatively powerful too.
A version of this flying eagle has been in the works since 1998. Recent developments in 3D printing technology mean that the new design is now at least 50% lighter than the original.
Users will be able to print every part of the body themselves at home. It even comes with a number of unique features like a changeable head model and a pretty convincing life-like eagle appearance!
Just keep in mind that if you want to take advantage of slicing features for your 3D models, you'll have to be using software known as CURA. At $44, this is by far the most expensive option on this page.
That said, it's also the coolest in our opinion! Who wouldn't want their own 3D printed RC eagle?! For your money, you get a comprehensive user guide along with all the schematics and gcode you'll need when bringing your creation to life.
If you were willing to spend $25, we'd say it's well worth spending a touch more to get a model like this. Just make sure you've actually got the space for it – the wingspan is pretty huge at 2M.
Pros:
It's a remote controlled eagle!
Great user guides
Unique, tweakable design
Cons:
The most expensive option on this page
Final Thoughts
If you're just looking for a free at-home project, we strongly recommend diving into sites like Thingiverse, GrabCAD, or one of these 30+ alternatives (including the first moon landing site, provided free from NASA!). These platforms are full of schematics and user reports that can help you get a plane ready on the cheap.
If you're looking for something with a bit more official support, we hope the options on this page have been helpful. Happy flying!