Creality's Ender 3 and Ender 3 Pro printers have been designed to deliver absolutely awesome print quality right out of the box.
However, this does not mean that one can't improve on perfection. This holds particularly true as far as 3D printers are concerned where there is always plenty of room for improvement.
As of now, there are a huge number of Creality Ender 3 upgrades as well as modifications that can take your Ender 3 to the next level.
Because the Ender 3 is so popular, 3D model repositories have tons of 3D printable parts and upgrades for the Ender 3.
These components are designed to improve the Ender 3 and Ender 3 Pro's design and printing performance.
Apart from that, there also exists a vast range of inexpensive upgrades as well as accessories that can be purchased online, in order to enhance your whole 3D printing experience.
Once the Ender 3 became a runaway commercial success, the engineers at Creality designed and subsequently released an upgraded version called the Ender 3 Pro.
This highly refined machine is one of its top-selling 3D printers and it boasts of a magnetic print bed. Apart from that, it also has a newly redesigned and improved extruder, not to mention the fact that there is a very sturdy, 40×40 aluminum extrusion that acts as a support for its Y-axis base.
In spite of these new changes, most of the various upgrades available today can easily be used with both the Ender 3 as we as its Ender 3 Pro counterpart.
Creality Ender 3 Upgrades you can buy
1. Polypropylene Build Plate
|
This is a really solid upgrade on an already solid printer. The polypropylene build plate offers a whole new world of benefits over and above the stock print bed of the Ender 3 series of 3D printers.
Once you install this upgraded build plate you will get enhanced adhesion for various materials such as PLA, ABS, and many others. Once the machine has finished printing and the bed has cooled down, you will be able to remove them by hand without any fear of getting burnt.
On top of that, there is the added advantage that the polypropylene is quite easy to clean. In fact, you can easily mount it on the Ender 3 with simple clips.
2. Cmagnet Build Plate
The easily removable Cmagnet build plate is a really nifty upgrade integral to the Ender 3 Pro. This build surface plate actually allows the user to safely and quickly remove the build platform from the machine and to bend it until the 3D printed object pops off. However, this feature is not available with the original Ender 3.
Now, there is no need to go and buy a new printer since you can get the same enhanced experience via an upgrade.
To use it, you can simply attach the new and flexible plate onto the original build plate. Once you have finished your 3D object, you can simply peel up the top plate. You will have to bend it a bit to remove it from the machine.
3. MK10 Hot End
|
This is an upgrade that has been created by Creality itself. Once added to the Ender 3 Pro, the MK-10 Extruder Hot End can substantially decrease the overall risk of any sort of clogging and uneven extrusion. This holds particularly true when you compare it to the original stock extruder system that is available with the factory packed Ender3 Pro.
4. Creality Laser Engraving Attachment
It is also possible to transform the Creality Ender 3 into a state of the art laser engraver, thanks to this absolutely fascinating upgrade. If you have a 24V option for your printer, you will be able to easily attach and operate this upgrade. You can also easily adjust the laser head as per the working distance of the unit. This laser engraver attachment works well enough, but the instructions manual leaves a lot to be desired.
This is why you will have to have in-depth DIY (do it yourself) knowledge to get the job done. Fortunately, you can also take help from many online videos that are now available. If you are good with electronic stuff and are ok with asking for help from online resources, you are good to go.
5. Tempered Glass Build Plate
A 3D object's quality depends upon that very first layer of very fine print. Here, nothing is more important for the initial print than your machine's build plate.
If you want some great quality finishes, it is time to make improvements to your machine's stock print bed. Keeping this in view, Creality has now started retailing a branded tempered glass build plate.
One that is fully compatible with not just the Ender 3 but its Pro brother as well. Thanks to its innovative design, you can also place it right on top of your unit's hotbed. Once fitted in, you can secure it in place with the help of the provided clips.
Creality claims that this Ender 3 upgrade has been designed with a full carbon and silicone build surface. It offers uniformly greater adhesion in comparison to the stock print bed of your machine.
This feature makes it an absolute must-have for any user who wants to print with volatile materials such as ABS. Unlike many other more generic options, this particular tempered glass build plate also proudly features its Creality logo, thus keeping your Ender 3 series on brand.
Apart from all of the above, the overall coating used on this glass build plate has a positive hardness of up to 8 Mohs and it also offers high-level heat resistance that can easily withstand temperatures up to 400 ℃.
6. 3D Printer Enclosure
If you are worried that the print quality of your builds is being compromised due to the open-framed Ender series, there is no need to worry anymore. An enclosure for your printer is here! Now, there is no need for any of your cherished prints to be negatively affected by external environmental forces.
Creality has created this really quick and easy to assemble 3D printer enclosure so that it would be possible to improve the printing experience of the Ender 3 and the Creality Ender 3 Pro.
This Creality Ender 3 upgrade is not just convenient but also very easy to install. When not in use, it can also be folded for more efficient storage. Apart from that, the enclosure is also equipped with pockets to hold necessary tools.
The printer can also be safely accessed by the simple expedient of unzipping the front of this enclosure. It also features a see-through screen in case you want to monitor your equipment.
The core purpose of this enclosure is to help ensure the consistency of the temperature inside the print chamber. Apart from that it also helps to keep the external weather out. Lastly, it also prevents the ingress of foreign matter inside the printing chamber.
Overall, this 3D printer enclosure actively serves to improve both quality and stability in order to make fine 3D objects. It features an interior coating that has been made from a strong and flame-retardant aluminum film.
As per Creality Ender 3 Pro specs, this enclosure can actively help prevent any potential fire hazard from spreading outside the machine. On top of that, this upgrade also substantially reduces the noise from your printer. At the same time, it also offers extra breathing room for your machine, even as it makes an excellent dustproof cover. Both Ender 3 and its pro version can share this enclosure.
7. Silent Mainboard
This is arguably one of the single most popular upgrades currently sold by Creality. In fact, the well-designed and appropriately named Silent Mainboard V1 is one of the best ways to make the Ender 3 and Creality Ender 3 Pro as soundless as possible.
This mainboard is now available on some of the newer Creality offerings, and Creality states that their silent motherboards are not available in stock Ender 3 or Ender 3 Pro models.
Not only is this driver extremely quiet, but as an added bonus it comes installed with Firmware its own bootloader and firmware 1.1.8.
Best of all is the extremely easy installation process. In won't be wrong to state that the Silent Mainboard V1.1.5 is essentially a simple plug-and-play upgrade.
If you are really interested in reducing the ambient noise of the machine and you also want to promote a uniformly smoother print experience, you should add this mainboard upgrade to your Ender 3 printer.
8. SD Card Extension Cable
"Necessity is the mother of invention" goes the old saying. If you are interested in a bit more flexibility when loading your SD card into the machine, then this SD card extension cable is just the thing for you.
It is sold directly by the manufacturer and this is why it is quite easy to install and use. While most SD cards are very small, this one comes with an easily attachable plug-and-play interface.
Yes, you can work without it, sure, but it is far more convenient to simply spend a few extra bucks and get hold of an official SD card upgrade. You can share it all across the Ender 3 Family.
9. Metal Bed Leveling Nut
The Ender 3 family of 3D printers requires manual bed leveling. Unfortunately, this is not exactly the easiest of processes. However, this should not make you shift to other more expensive models, at least not when there is a solution to your problem. Ergo the metal bed leveling nut.
While the stock bed leveling nuts have been crafted in polymer, these ones are solid metal. This means that they don't have the flimsy and unstable feel of the original ones.
In fact, the good people at Creality have gone out of their way to add some extra flair to the oft arduous leveling process with the help of this upgrade.
They are not worth much. Just about a couple of dollars. However, once you add these gorgeous and sleek, fiery red nuts to your printer, you will also get both stability and strength to go with the classy look. Best of all, the bed leveling process will become a complete breeze.
10. Bltouch Auto-Level Sensor
The Creality Ender 3 has a lot of perks for a printer with such a low price point. However, the auto-leveling feature is conspicuously missing from its repertoire. Since the manual calibration process can get tiring very quickly the BLTouch auto-leveling sensor can be a truly terrific upgrade for your printer.
11. Raspberry Pi 3 for Octoprint
This upgrade will give you the ability to control and observe your Ender 3 from the web browser of your smart device. You will be able to watch prints through an available and embedded webcam feed. You will also be able to control print temperatures, check print status, and also pause your printer, irrespective of your location.
12. Glass Print Bed
This glass print bed is a great upgrade if you want to replace the original aluminum print bed of your Ender 3. It will not only improve but also increase the range of print materials that you can use with your printer. Your prints will have a smoother surface where they are in contact with the bed. Finally, it is much easier to clean as well.
13. E3D Titan Aero Extruder
This is another really great way to improve your printer's overall performance and quality. The E3D Titan Aero extruder package includes the extruder, as well as a V6 Hot End.
The extremely tight filament path ensures that this upgrade is picture-perfect for both flexible and specialty filaments. Moreover, it also drastically reduces the impact that knocks and bumps might have on the print quality of the 3D object.
14. Stepper motor dampers
An ongoing issue with the Ender 3 series is the excessive noise levels with 3d printing on these machines. These all-metal dampers are a really great way of decreasing both the noise and the noise and the resonance of your printer.
15. All Metal Extruder
The usual extruder present in the original model is a bit of a letdown since it is flimsy in construction. This is why purchasing an all-metal version of the same will definitely take you a step beyond. It will also provide better stability and durability to your machine.
All of the above upgrades are available commercially and they can be added to your Ender 3. However, it is also possible to upgrade your machine by simply 3D printing the following upgrades from Thingiverse thanks to the detailed links available there:
Creality Ender 3 Upgrades you can Print
1. Petsfang Cooling Duct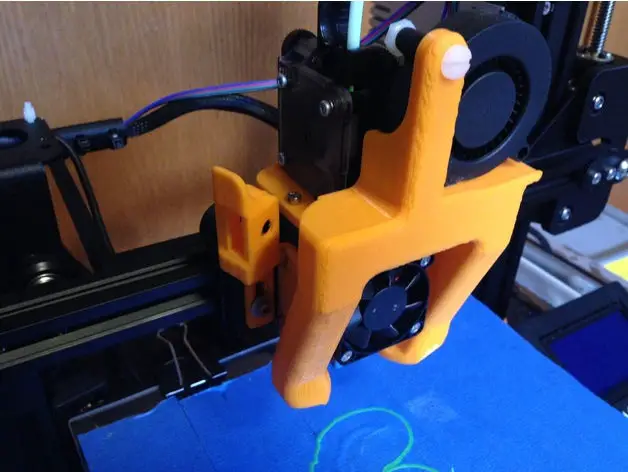 The Petsfang cooling duct is a very popular option that easily fits the Ender 3. This mod encompasses the whole of the extruder and it enhances the airflow from the extruder all the way to the print. You can also use it with the BLTouch auto-leveling tool.
2. Ring Fan Duct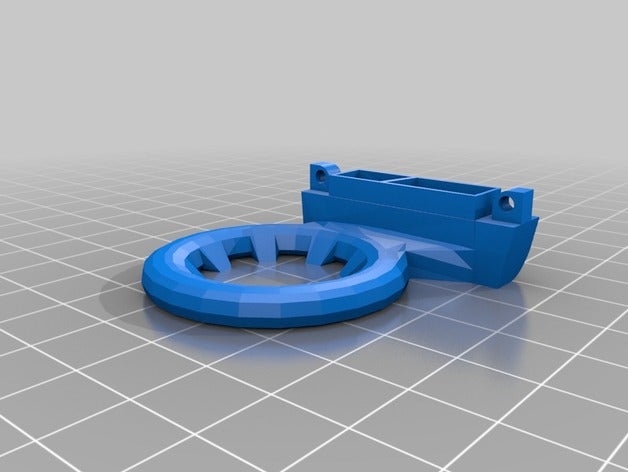 The Ender 3 has been equipped with a fan duct. However, its simple design only distributes cold air from a single direction. This ring-shaped vent can ensure that the blower's airflow reaches your printed object from all around and thus improve print quality.
3. Fan Guard for Control Board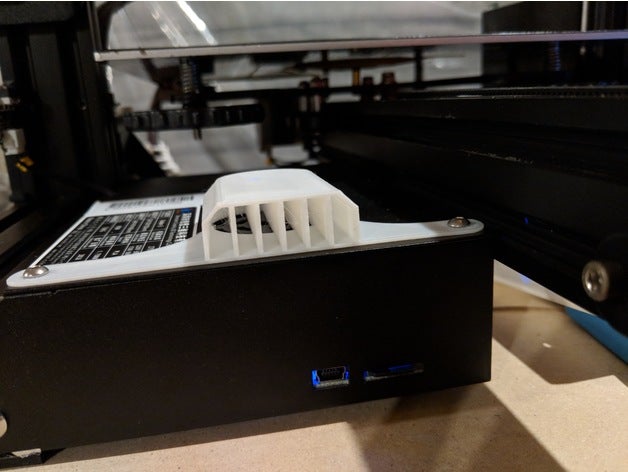 The base Ender 3's board enclosure is susceptible to dust and even tiny bits of filament. Apart from that, the board fan also draws heat air from under the heated bed. This is the part where the fan guard for the control board comes into the picture. It will protect the essential components from debris and overheating issues during the 3D printing process.
4. Cable Chain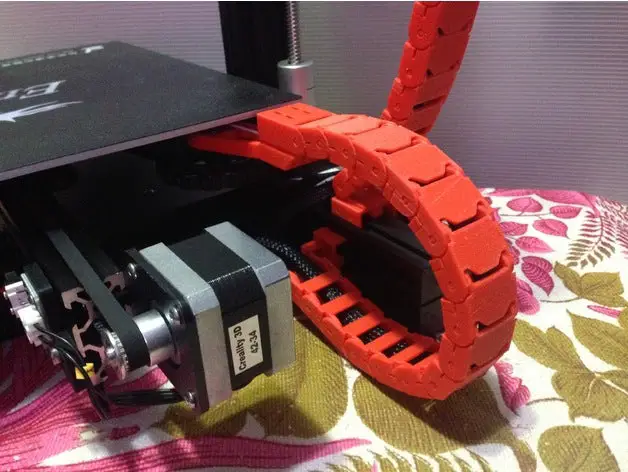 If you don't like that ugly mess of wires and piping around your Ender 3, simply get this cable chain to cover it up. And using a neon orange color can add a touch of flair to your machine.
5. Filament Guide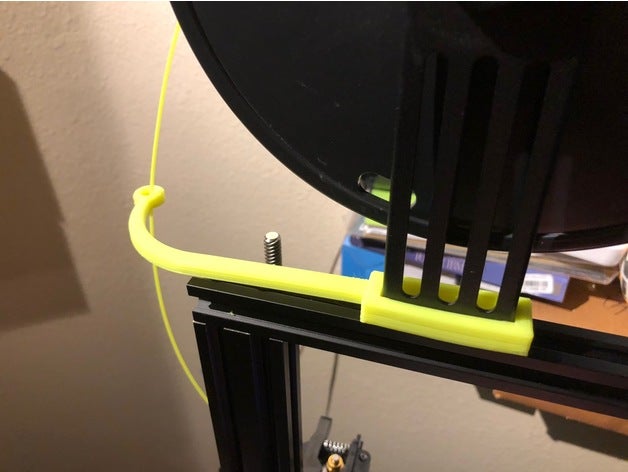 The Creality Ender 3 lacks a customized guide for the filament. However, this problem can be resolved with this easy and printable solution that will snap right onto the frame of your machine to keep the filament strands out of harm's way.
6. Ribbon Cable Clip
This fully printable Display Ribbon Cable Clip can keep your LCD display's cable out of the way and out of sight. It can easily be printed within a very short time and you can latch it on the display cable.
7. Belt Tensioner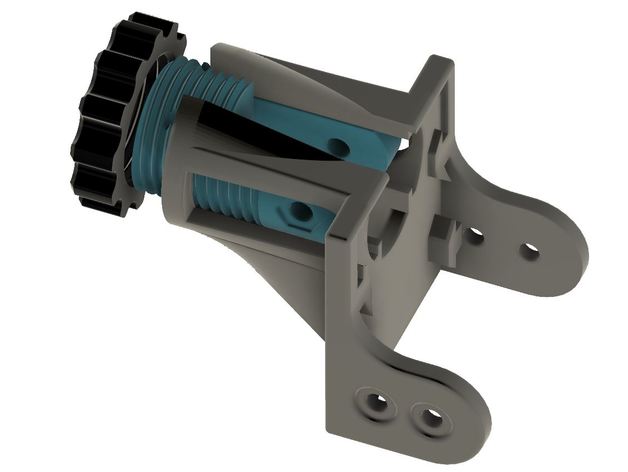 You need to adjust the tension in the printer belt. In fact, this is one of the single most important aspects of achieving a high print quality. You can easily print this belt for both the X and Y axis.
8. Extended Extruder Arm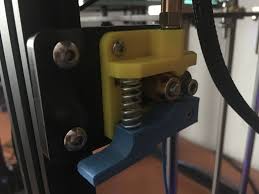 The short extruder arms of the Ender 3 series can lead to a lot of problems when it comes to leading filaments. However, this issue can be easily resolved with the help of an extended Extruder arm 3D printed for this purpose.
9. Control Knob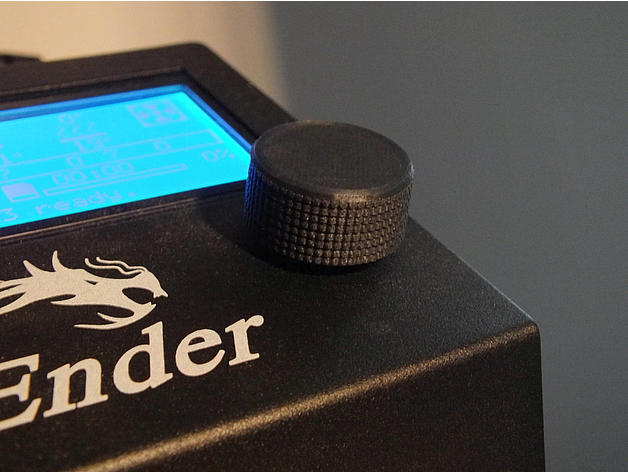 The stock control knob of the Ender 3 is a bit small and it is not easy to dial in the exact settings. However, a larger 3D printable knob can easily give you near-unprecedented control over your machine.
10. Beeper Silencer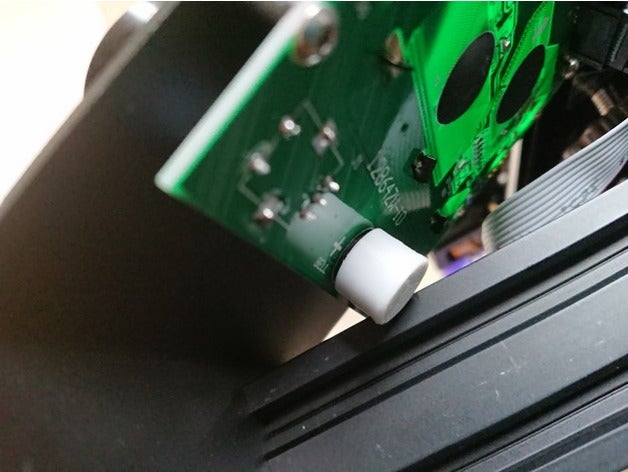 If you are disturbed by the sound of the beeper on your machine, you can simply snap this beeper silencer to the back of the LCD board. It takes about ten minutes to print and it can be installed in under a minute.
Related
Conclusion
These 25 upgrades are a great starting point to get your printer performing even better. Even if you don't want to drop some extra cash on the upgrades to buy, you should definitely get started with the printable upgrades.