3D printers have exploded in popularity over the past several years. Nothing works better for tinkering with, creating, and designing awesome new creations. If you're looking for the fastest 3D printer money can buy then you're in the right place.
We've scoured the internet, looking at online reviews, comparison pages, and customer comments to compile this list of the fastest 3D printers out there in 2021. 3D printing is about so much more than speed, but it can be a real dealbreaker for many.
The good news is that some of the fastest 3D printers on the market are also excellent in other areas like build volume, resolution, and overall quality. We discuss this in a little more detail later on.
Read on to find a fast 3D printer that's perfect for you! We've covered industrial 3D printers, hobbyist setups, and everything in between.
What Impacts Print Speed?
If you're looking for high speed 3d printing, it's important to get to grips with the basics of 3D printers. The more you understand about how these machines work, the easier it will be to find 3D printers with the speed you need.
In this section, we'll explore some of the most common factors that can impact print speed.
Resolution Impacts Print Speed
Some of the fastest 3D printers on the market still manage to offer phenomenal speed and resolution. That said, a good rule of thumb is that the higher the resolution of a print, the longer it will take to print in the first place.
It might be worth considering what kind of balance between speed and resolution will work for you when shopping. There are plenty of 3D printers out there that will wreak havoc on your bank account. Sometimes a mid-range option is the best way to go.
The Printing Setup Impacts Print Speed
3D printers come in a few different shapes and sizes. The specific technology used by your 3D printer will also impact your final print speed. Resin 3D printing, for example, tends to offer higher levels of quality and resolution, but at the cost of speed.
Some of the fastest 3D printers are filament based, but that doesn't always mean they're the best at everything.
Print Quality Determines Print Speed
Do you want to print creations that look amazing, last a long time, and stand up well to the elements? If so, the fastest 3D printers aren't the only thing you should be considering. The higher the quality of your prints, the longer it will take to create them.
There are a few exceptions to this, sure, but it's a good rule of thumb to stick to. It's like the old saying goes – if a job's worth doing, it's worth doing right.
Your 3D Printing Settings Matter Too
3D printing is about so much more than the equipment you're using. Your environment, workspace, and 3d printer settings are also critical. The tweaks you make to your setup can make a big difference to your final print time.
Top and Bottom Speed
This is a setting found on many 3D printers that determines how quickly the top and bottom parts of your builds are printed. A longer time yields a higher quality surface. A lower time gets you the fastest 3D results but sacrifices on quality.
Outer Shell Speed
This 3D printing setting adjusts the speed at which the outer layer of your prints is created. Remember that faster times mean a lower quality surface and vice versa.
Inner Shell Speed
Underneath the outer shell is – you guessed it – the inner shell. This is sometimes also referred to as the inner wall. As a general rule, this should be kept at the same rate as the overall print speed to maintain quality and consistency.
Printing Environment Also Makes a Difference
If your priority when printing is speed, you'll want to adjust your settings so that your machine sacrifices quality to get your creations printed faster. One sticking point with this approach, however, is that you'll be limited by your printing environment.
The humidity, temperature, and overall air quality of the room you're working in can all impact the quality of your final prints. This means you may have to deal with a slower print speed in certain environments just to make sure your builds actually print properly.
Your mileage will of course vary – it all comes down to the printer you're using and the room it's in.
The Fastest 3D Printer List
Right, let's get into it. The list below contains some of the fastest 3D printers money can buy in 2021. We've considered online reviews, comparison pages, and feature sets to come up with our suggestions below. Read on to find the fastest 3D printer for your requirements.
HP Jet Fusion 5200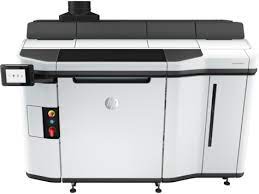 The HP Jet Fusion 5200 won't be for everyone. For professionals and extreme hobbyists, however, it might just be exactly what they're looking for. Expect a killer build volume, super fast printing, and a level of quality that you might not be used to.
The Jet Fusion 5200 is a fast 3D printer, but it's also much more. It's built to meet the high, ever-changing demands of a professional environment. Your prints will be exceptionally high-quality and should be much easier to plan and predict too.
HP has built a whole host of manufacturing tools into the Jet Fusion 5200. This 3D printer makes it much easier to plan, tweak, and execute your designs. If you've only ever worked with low-budget stuff before, be ready to have your socks blown off!
Why We Love it:
This is definitely a fast 3D printer
Very high-quality, industry-standard prints
Great management and manufacturing tools
Strong build volume
Some Drawbacks
Far from a budget option
Takes up a great deal of space
Delta Wasp 2040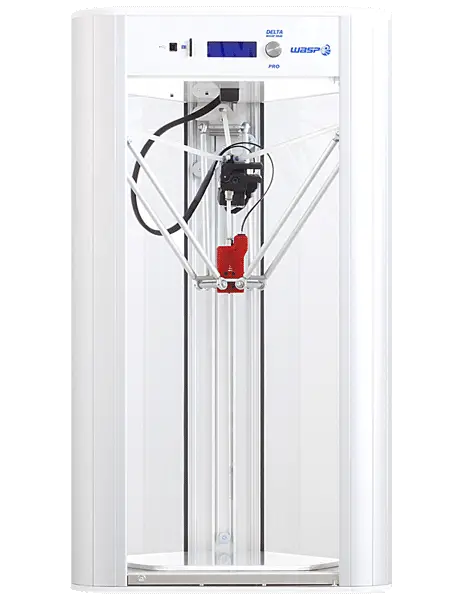 Next up is the Delta Wasp 2040. This excellent piece of equipment offers high speed 3D printing for less than you might expect. Don't get us wrong, this thing hardly falls into the bargain basement category, but it strikes an excellent balance between performance and price in our opinion.
The Wasp/ Delta lineup of products has built something of a reputation in recent years. These 3D printers tend to be fast, excellent-quality, and relatively easy to control. This is certainly true of the 2040. The good news is that it works with Windows, Linux, and MacOS, so you're unlikely to encounter many compatibility issues.
Both the rectified printing bed and auto-calibration system on this 3D printer do an excellent job of keeping things speedy. Provided you're aiming for reasonable projects with the right settings, your printing speed should be much better than with less premium models.
Why We Love it:
Great balance of performance and price
Compatible with Windows, Linux, and MacOS
Excellent printing speed
The Wasp/ Delta brand has a great reputation
Some Drawbacks
The build volume won't be enough for everyone
FLSUN QQ-S 90% Pre-Assembled Delta 3d Printer
If you need a reasonably fast 3D printer that is also a great all-round workhorse, this Delta Flsun QQ option might just be for you. It's perfect for a school or workshop environment and produces mid-tier prints right out of the box.
If you have a little experience and have the time to tinker, this thing is also capable of creating some pretty impressive results. In general, your printing speed should be much better when compared to a significant chunk of the competition.
Of course, 3D printer speed isn't the only factor worth considering. The good news here is that this Flsun QQ Delta 3D printer also comes with convenient touch screen controls, a decent build volume, and an overall print quality that surpasses the price tag.
Why We Love it:
Perfect for schools or workshops
Decent 3D printer speed
Reasonable build volume
The touch screen works well
Some Drawbacks:
Fast, but not as much as some of the others on this list
Uniz Slash Plus UDP 3D Printer
The Uniz Slash Plus UDPis really quite something. It uses UNIZ's "Uni-Directional Peel™" technology to significantly improve the appearance, durability, and overall quality of their prints. The company is claiming that prints made with this 3D printer are completely layerless.
From what we can see, this claim seems to be pretty accurate. The great thing about the "uni-directional" technology that's employed here is that it significantly improves the speed of your 3D printing. When working in "normal" mode, this machine can run at a rate of up to 200mm/hr.
Switch to uni-directional mode, however, and this speed sky-rockets up to 600mm/hr. If 3D printer speed matters to you, this option is definitely worth considering. Just keep in mind that the flashy technology that comes with this printer can only be used if you follow the company's design rules.
Why We Love it:
The Uniz Slash Plus "uni-directional" mode is super fast
Great surface finish
Excellent overall print quality
Reasonable build volume
Some Drawbacks:
You can only print in the faster mode if you follow the manufacturer's design rules
ANYCUBIC Photon Mono X 3D Printer
Next up is this fantastic option from Anycubic. Much like this Uniz Slash Plus UDP listed above, this 3D printer can also churn at work at up to 600mm/h. This is around 3x faster than traditional resin 3D printers. Just make sure you switch on the faster 3D printing setting when working for best results.
The good news is that this machine is far from a one-trick pony. Anycubic has a reputation for building some of the most-loved 3D printers in the world. They certainly seem to have stayed true to form with this model.
Expect controls that are easy to navigate, prints that are ready sooner, and an overall print quality that should be more than enough for most hobbyists. We particularly like the remote control app that works with this 3D printer. It's super easy to use and makes for convenient, fun prints every time.
Why We Love it:
Handy fast printing mode (60mm/h)
We like the remote printing app
Decent overall print quality
Some Drawbacks:
The build volume is good for hobbyists but could be bigger
Delta Wasp 2040 Turbo
This is the turbo variant of the 2040 model we recommended above. It will likely be too expensive for many hobbyists, but it delivers the next-level performance that many enthusiasts and pros are looking for.
If you've only ever worked with a more standard 3D printer, get ready to be impressed by the speeds on offer here. The 2040 Turbo can print at speeds of up to 800mm/s. In case you're wondering, that's seriously impressive.
Like some other models on this page, this fantastic machine offers a handy "resurrection" mode for when your print is interrupted unexpectedly. This will continue your print from where you left off, potentially saving you a ton of time and money.
Why We Love it:
Super fast speeds of up to 800mm/s
Decent build volume and print quality
A versatile machine
Some Drawbacks:
It's not the cheapest option out there
Massivit 1800 – Massive Build Volume Printer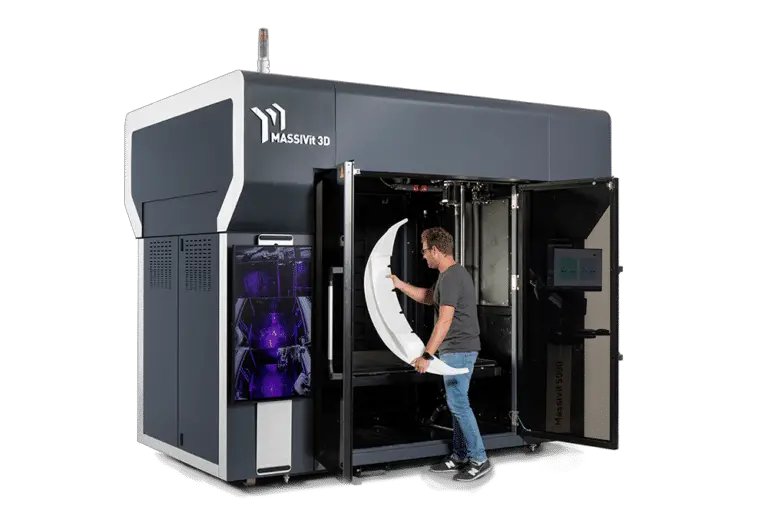 This is another industrial-grade printer that's capable of producing very high-volume prints at a remarkably high speed. You can forget about this one if you're a hobbyist with just a bit of workshop space. This thing is built for incredible, large-format builds like machine parts, statues, and much more.
When we say this is a high speed printer, we really mean it. It offers up to 30X the speed of more traditional products. What's more, the variable quality settings on offer with the Massivit 1800 mean that users don't even have to compromise too much on quality.
Machines like this stand as testament to just how far 3D printing technologies have come in the past several years. What was once a nerdy pastime with some promise is now a huge industry with technology that is truly impressive.
Why We Love it:
Up to 30X faster than desktop 3D printers
Huge capacity for large-volume builds
Built for the high demands of the industry
Some Drawbacks:
It will be prohibitively expensive for most people
It's huge!
Ender 3 V2 Upgraded 3D Printer
This Ender 3D printer gets a lot of things right. It's fully silent motherboard allows for super smooth results that are unlikely to disturb anyone with noise any time soon. In terms of speed, this thing is no slouch either.
The power supply is designed for fast, consistent heating that will get your prints where they need to be faster. One thing we love about this option is its resume function. Something that can really ruin a 3D printing project is when you lose power.
If you're using the wrong 3D printer, this can mean game over for your current print. With this option from Ender, it's possible to simply get power going again and then resume from the last layer you were working on. This can save you a ton of headaches – trust us.
Why We Love it:
Silent motherboard for smooth, quiet operation
Decent print speeds
We love the resume feature for power outages
Very affordable
Some Drawbacks:
Initial assembly can be a bit of a headache
Not as fast as the other 3D printers on this list
FlashForge 3D Printer
FlashForge make some of our favorite 3D printers and this one is no exception. Something we really want to flag up here is that the company tends to have great customer service. If you encounter an issue or have a question, chances are you'll be able to get the help you need.
Considering the slew of other features and performance levels that come with this machine, the printing speed is pretty respectable. It's not one of the fastest in the world or anything like that, but it should be more than enough for most requirements – up to 100mm/h.
Killer features like mirror mode, duplicate printing mode, and dual color mode make this a remarkably versatile 3D printer. With an asking price of around $700, you get a whole lot of bang for your buck. We're big fans of this one.
Why We Love it:
A great all-rounder
Has some excellent printing features
Strong customer service reputation
Some Drawbacks:
The printing speeds are respectable but nothing to write home about
BAAM (Big Area Additive Manufacturing)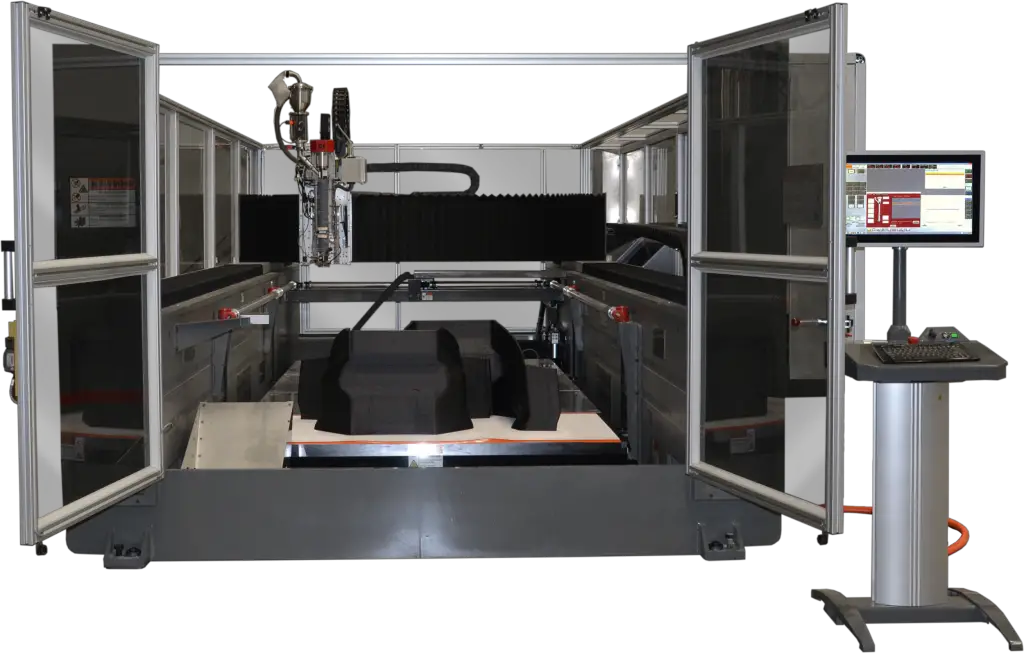 A whole host of incredible 3D printing technologies have gone into this industrial 3D printing machine. We realize that this option is unlikely to be the best choice for most people – the cost for this thing is quote-based and prohibitively expensive.
That said, it does deliver some of most impressive speeds we've ever seen. It's possible to print up to 80lbs of material an hour with this machine! From day one, the goal with BAAM was to make a printer that could produce high volume projects quickly.
It's worth mentioning at this juncture, that the manufacturers themselves admit that surface resolution is sacrificed to achieve these crazy speeds. Some degree of post-processing might be necessary to get the final results you're looking for.
If you regularly print a ton of material, this option is definitely worth considering.
Why We Love it:
Speeds of up to 80lbs/h
Built from day one for speed
Excellent of industrial or high-volume print environments
Some Drawbacks
Some post-processing is required if you want a high-resolution surface
Fastest 3D Printers – What to Consider
When picking up a new machine for your 3D printing needs, it's important to make sure you're on the right page. These things can easily run you a few thousand dollars so it's worth getting to grips with the basics of what to look out for.
In this section, we'll explore a few fundamental questions you should be asking yourself when shopping. The clearer you are about what you're looking for, the easier it will be to find 3D printers that work for you. Read on to learn more.
Required Quality and Other Expectations
The first thing you should probably do is take stock of what you actually want to achieve with your new machine. How big do you need your creations to be? Do you care about resolution or is it all about the speed of your 3D printing? How much space do you have to store your new printer?
Asking yourself these kinds of questions early on can prove invaluable. Going into a product search with a clear idea of what you need makes it so much easier to filter out the duds and find what you're really looking for.
Build Volume
Once you know a bit more about the kind of creations you're hoping to print, it's time to think about build volume. In short, the build volume on 3D printers determines how much space you'll have available to actually print.
There's nothing complicated about this one – a high build volume gives you more space, while a lower build volume yields smaller creations. Find a capacity that works for you when shopping.
Price
The price range for 3D printing equipment these days is pretty broad. With machines costing anywhere from $300 all the way up to $5000+, how do you know where to start? This all comes down to your experience level and individual requirements.
If you're a seasoned pro, you've likely outgrown the cheaper models out there. If you're brand-new to the world of 3D prints, your best bet will be to find something that's reasonably priced but still decent quality. Look for beginner machines or well-reviewed printers online.
Flexibility
Do you need a printer that can do it all, or will something that's a bit more bare-bones do the trick? Our advice if you're new to all this is to err on the less complex side of things to begin with. Some of the most expensive 3D printers out there can achieve incredible results, but they come with enough bells and whistles to overwhelm a newbie.
Even some of the fastest 3D printers in the world just won't be worth it to may people. It's about weighing up your own circumstances and making a decision that works best for you.
Surface Space
It's worth checking and double-checking the dimensions of any printer you consider. Some images on Amazon listings can be deceptive, so look for specific measurements wherever possible. The last thing you want to do is splash out on a fancy new machine only to realize that you don't actually have the space for it!
Be prepared to avoid disappointment later on.
Maintenance and Troubleshooting
If you're a newcomer to 3D printing then buckle up – this hobby isn't without it's frustrating moments. Even the most premium printers involve at least a little trial and error if you want to get the exact results you're looking for.
Maintenance is another aspect that's important to keep in mind. Even high-quality moving parts will break down eventually. With this in mind, it's important to find a printer that offers good levels of both durability and easy maintenance.
A good customer support line can also be indispensable in a pinch. Your printer might be perfect today, but will it be easy to maintain 2 years from now? Try to keep this in mind as much as possible when shopping.
Compatibility
Checking the compatibility of any printer you consider is very important. You'll need to make sure that any machine you're looking at will work with your chosen operating system, computer, and 3D printing software.
If you can't feed g code into your new machine, you aren't going to get very far. The good news here is that most options today have at least reasonable compatibility. It's definitely worth double-checking, though. The last thing you want to do is bring your printer home only to realize you can't actually do anything with it!
The Fastest 3D Printer – Conclusion
It's important to remember that the fastest 3D printer in the world might not be the right fit for you. In our opinion, it's better to balance speed against a whole slew of other factors. No one knows your requirements or circumstances better than you.
Weigh up what you're looking for against your available budget to find something that works. Remember that the faster your print speed, the more you'll have to sacrifice on surface quality and overall durability. Whichever printer you choose, we hope it serves you well for many years to come!