Today we're going to review direct drive 3D printers.
Why?
Because, unlike Bowden 3D printers, direct drive and print more materials (including flex) and generally have a better surface and fewer artifacts (mistakes) than a Bowden extruder.
Our list of the top 10 direct drive 3D printers will help you find what you need.
Our list of the best direct drive 3D printers
1. Prusa i3 MK3s+ Direct Drive 3D printer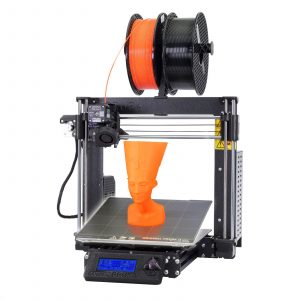 The Prusa i3 MK3s+ Direct Drive 3D printer is one of the most reputable 3D printing brands. It's one of two I own and use every day. With years of design and improvement, it has excellent performance.
This machine is perfect for those who are looking for a reliable model that is easy to assemble and operate with minimal maintenance required.
Suitable for both amateurs and professionals, the Prusa i3 MKIIIs Direct Drive 3D printer offers high-quality prints at an affordable price that will not break your bank account.
The direct drive extruder and E3D V6 all-metal hot end are reliable and deliver excellent results every time.
Seriously, it's like the iPhone of 3D printers. Push print, walk away, come back to a new thing that the Prusa built.
Assembling the Prusa i3 MK3S, however, is a serious pain if you choose the kit (it took me 3 weeks… but I'm a dad of two).
My favorite features for the Prusa are automatic bed leveling with the SuperPINDA proximity sensor and a flexible spring steel PEI sheet that makes part removal dead simple.
The Prusa i3 MK3S+ offers a layer resolution as fine as 0.05 mm and a max printing speed of 200 mm/s that ensures smooth results at an optimal quality level with no filament issues or other interruptions during the process.
Prusa also setup the motherboard to easily integrate with a Raspberry Pi Zero (Rpi Zero) by just cutting a few plastic tabs. Assuming you can find a Raspberry Pi, that is.
The biggest downside of the MK3S+ is the LCD screen and rotory knob. Both feel downright archaic and with Creality shipping full color displays on a sub-$300 printer, Prusa could step their game up here.
Look, if you want to spend all day creating parts for your 3D printer, get an Ender. If you want to spend all day 3D printing, get a Prusa.
Specifications
SuperPINDA automatic bed leveling
Magnetic spring steel PEI sheet
1.75 mm filament Diameter
0.05mm (50 Microns) minimum layer thickness
Single Extruder
LCD Display
SD, USB cable connectivity
2. FlashForge Creator Pro 2
If you're one of these people looking for ways to get started with this new technology then we have just the thing: The FlashForge Creator Pro 2 is an excellent machine that is perfect for both beginners and seasoned 3D printer hobbyists.
In addition to being easy enough for beginners, this printer offers professional level quality when it comes to both print speed and surface accuracy which means your prints will come out better than ever. And thanks to the direct-drive dual extruder system that gives you the ability to print in multiple colors, you can even create pieces that look truly unique and cool!
But that's not all this printer has going for it. Thanks to its enclosed casing, your prints will be kept safe from external elements so you won't have to worry about them being damaged or warped while they are being printed.
Additionally, the touch screen makes this direct drive 3D printer really easy to use. The menus are quite intuitive and simple to navigate.
The Flashforge Pro 2 works with a large number of filaments including ABS, PLA, HIPS, PVA and even Nylon. This means you can create not only rigid pieces but also flexible ones, allowing you to have even more creative options when it comes to what you want your final product to look like.
For anyone who is looking for an easy way into this technology without having to break the bank as well as those who are looking to upgrade from a simpler 3D printer, this machine is a great choice.
Specifications
Build Volume: 227 x 148 x 150 mm
Minimum Layer Height: 100 microns
Nozzle Size: 0.4 mm
Max. Extruder Temperature: 260°C
Max. Heated Bed Temperature: 120°C
Printing Speed: 100 mm/s
Connectivity: SD card, USB
3. Qidi Tech X-Pro
The Qidi Tech X-Pro is a great 3D printer for the price.
It's a direct-drive machine that offers high quality prints while being easy to use and maintain.
This will be the perfect choice if you're looking for a model that won't break your budget but will also give you professional results with minimal effort.
The best part about this printer is that it requires very little calibration, so anyone can get started right away without having to spend hours figuring out how to set up their machine just right. This means more time spent printing and less time setting up!
Qidi Tech makes a proprietary slicing software called Print, which is very easy to use and offers a wide range of features.
The best part about this machine, however, has to be just how quiet it is. If you've ever used a 3D printer before then chances are it was loud enough to make conversation difficult without having to shout over the hum of the machines.
This model is so quiet that you can easily hold a conversation with someone sitting right next to you while it's printing!
It also has a filament sensor, a microSD card reader, and an LED screen that allows you to monitor the progress of your print.
This is a great choice for those looking to upgrade from a cheaper model or who are taking their first steps into 3D printing.
Finally, it's fully enclosed, meaning you can print filaments like ABS much more reliably. ABS tends to warp if the air around it is cool, so having a closed enclosure prevents your prints from being ruined by cooler outside temperatures.
Specifications
Minimum Layer Resolution: 0.1 mm
0.4 mm Nozzle Diameter
Compatible with 1.75 mm filaments
250°C maximum extruder temperature/120°C maximum Print Bed Temperature
4. Creality CR-10 V3 Direct Drive
Another contender for the best direct drive 3D printer is the Creality CR-10 V3. This machine offers a lot for its price, and it's perfect for those who are just getting into 3D printing because of its simplicity.
The best part about this printer is its easy setup and calibration process which makes every print turn out perfect!
Another great thing about the Creality CR-10 V3 is its massive print volume! It has a large print volume of 300mm (11.8″) x 300mm (11.8″) x 400mm (15.7″).
As for speed and quality, Creality CR-10 V3 is the best you can get at this price.
The CR-10 V3 builds upon the massive success of the original CR-10, which was a game-changer in the world of consumer 3D printers.
The E3D Titan direct drive extruder gives excellent performance and handles filaments like ABS, TPU, and higher-temperature filaments like a champ.
It's also one of the least expensive 3D printers on this list. Add to that the massive community and ecosystem of 3D printable upgrades, and you've got a winner on your hands.
Specifications
Dual port cooling fan
TMC2208 motherboard for higher quality 3D prints
Strong structure and build
1.75mm filament compatible
Easy to maintain
Resume print function
0.05mm minimum layer height
5. Monoprice Maker Select Plus V2
The Monoprice Maker Select Plus V2 is one of the best direct drive 3D printers.
Thanks to its sturdy design, this thing is FAST. You can print at speeds of up to 150 mm/s and it supports a wide range of filament options including PLA, ABS, nylon, polycarbonate, TPU, PVA, and HIPS.
It features an LCD control panel with a full color touch screen interface that simplifies navigation through the menu system.
Monoprice has been making really great 3D printers over the years and the Maker Select Plus V2 is no different.
The best part about the Monoprice Maker V2 is that it's budget friendly. You can purchase this device for less than $400 making it great for those who are looking for something inexpensive but still high quality.
Monoprice is best known for their printers so purchasing one from them definitely feels safe.
If you want a really inexpensive 3D printer that's made by a high quality brand then the Maker Select Plus V2 from Monoprice is a great option.
Specifications
Build Volume: 200 x 200 x 180mm
Max. print speed: 150mm/s
Max. print temperature: 260 degrees°C
Minimum layer resolution: 0.1mm
Connectivity: USB, SD Card
3.25″ touchscreen
6. Artillery Sidewinder X1 V4
The Artillery Sidewinder X1 V4 is a direct drive 3D printer that has some great features.
The extruder and hot end can handle a wide variety of materials. The AC heated bed heats up faster which means you don't have to wait as long for your prints to start printing. The heated bed is very useful for exotic filaments that can be quite finicky!
This printer is very quiet so it won't disrupt those around you while it's in use, because let's be honest, sometimes people find 3D printers annoying when they're running all day!
This machine heats up quicker than its competitors and will let you resume prints in case of a power outage so you don't have to start from the beginning.
There are some cons, though: Artillery is less popular in the 3D printing world, which means you might not have access to the latest upgrades for this type of product – broken parts may become an issue as mods may be harder to find and you'll have to design them yourself!
Specifications
Build Volume: 300 x 300 x 400mm
Maximum Travel Speed: 250mm/s
Maximum Print Speed: 150mm/s
Minimum Layer Resolution: 0.1mm
Connectivity: USB Stick, TF Card, USB
Direct Drive 3D Printer Buying Guide
WHY USE DIRECT DRIVE INSTEAD OF BOWDEN SETUPS?
Direct drive extruders can provide higher torque and handle exotic filaments better than Bowden setups.
However, direct-drive setups do add a lot of weight to the toolhead, so that limits your maximum print speed.
Bowden setups don't offer many advantages over direct-drive systems other than that they're cheaper and lighter, which is important if you are on a budget and want a cheap printer, or want to print very fast.
Bowden tubes are also quite finicky and tend to require a lot more maintenance than direct drive setups.
SHOULD YOU GET A SINGLE OR DUAL EXTRUDER SETUP?
Dual extruders are great for printing multiple colors or printing water soluble filament. However, there are much fewer of them and they tend to be more expensive than single extruder setups.
If you're on a budget or if you want to print faster, go with a single extruder setup.
HOW IMPORTANT IS BUILD AREA IN A 3D PRINTER?
It depends on your main use case. Build area can be one of the most important factors of a 3D printer… if you plan on printing larger items. A larger build area can also help you print faster because you can fit more models in a single print.
Conclusion
In conclusion, the best direct drive 3D printer is one that will suit your specific needs. The six printers that we have outlined are all top-notch models with different features and positive points.
Whether you need a machine for precise engineering projects or intricate art pieces, there's a high-quality model out there for you.
The Prusa i3 MK3S+ is a great 3D printer and is the king of all hobbyist and semi-pro 3D printers.
The FlashForge Creator Pro 2 is another incredible 3D printer.
The Qidi Tech X-Pro is a high-quality machine with a large build area and easy-to-use setup.
Creality CR10 V3 Direct Drive is a good option for those who want a huge build area and lots of modding options
If you're looking for something more unique, the Artillery Sidewinder X1 V4 is a good option.