The world of 3D printing is expanding at a very pace and more and more companies are now jumping into the fray. As of today, the sheer number of printers and 3D printing companies is mindboggling and the consumer is hard to put to find the very best one for the job at hand.
This holds particularly true if the individual making the purchase has certain specific requirements. Keeping all this in mind we are going to conduct this Phrozen Transform review so that you will get the required information to make the correct decision regarding your printing needs. So without more fanfare, let us start our review.
The Phrozen Transform is an all-new and state of the art resin 3D printer that has taken the 3D printing world by storm. This is in part due to its highly popular Kickstarter campaign. When the Transform printer design was first unveiled at the launch of the campaign, it created a huge buzz and the Phrozen 3D printer company was able to generate the funds required for its development in a very short period of time thanks to its worldwide following.
This is not very surprising since the machine boasts of some really cool specs not found in many other printers. These include interchangeable 13.3" & dual 5.5″ panels as well as an ultra-stable 40 cm Z-axis.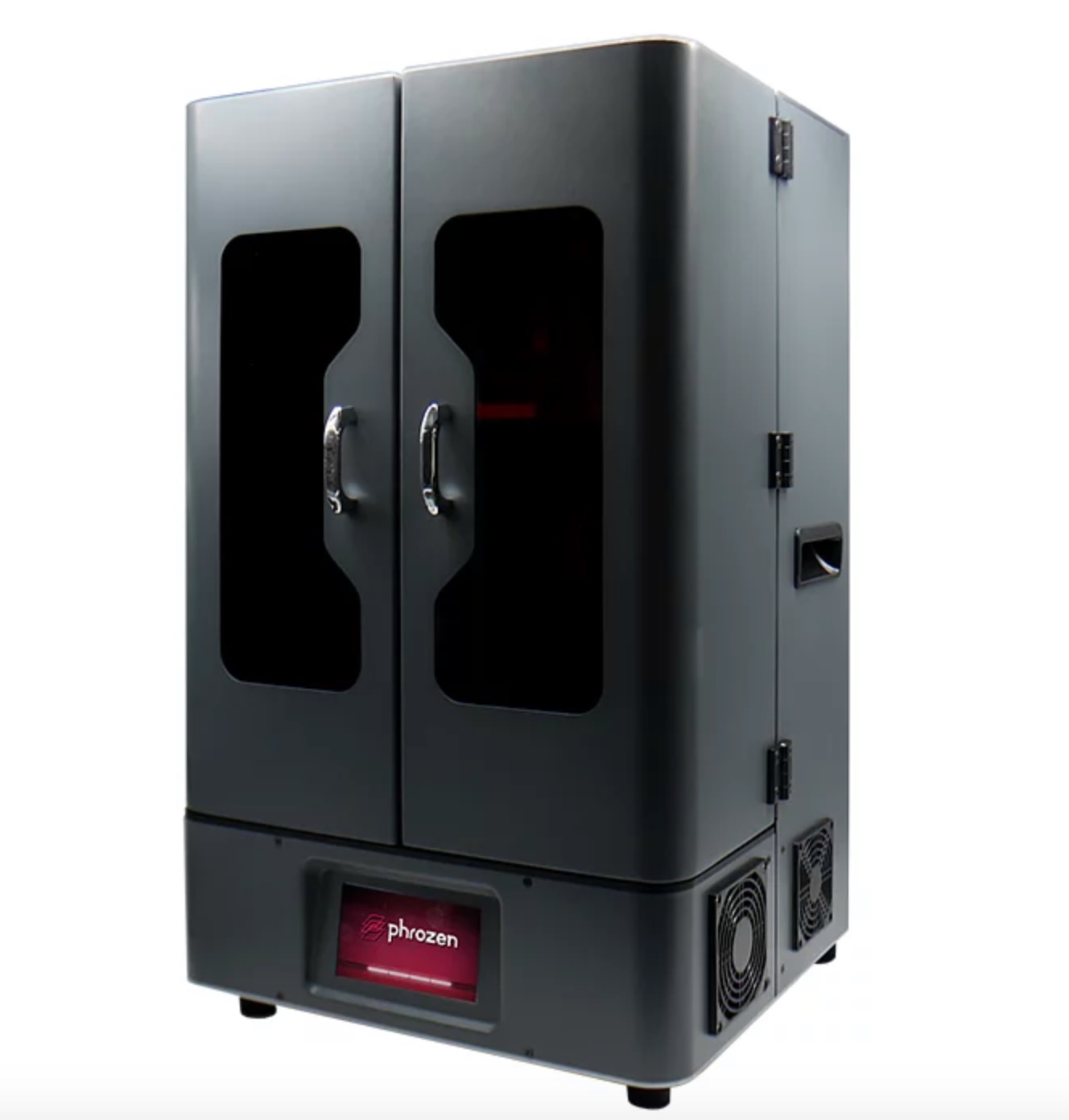 Resin 3D printers are quickly becoming as popular as their FDM technology counterparts and now a lot of these machines are available at a bargain price.
There was a time when the resin 3D printer space had primarily been occupied by powerful brands such as Formlabs, Anycubic, and other companies. However, the scene has changed as other manufacturers have managed to figure out exactly how to recreate all of the SLA as well as DLP processes in an enhanced yet increasingly more affordable way.
As of now, there is a steadily growing number of relatively inexpensive resin 3D printers that are available to the budget conscious buyer. Here, one of the most successful ones is the Taiwan based printing company known as Phrozen.
Founded in 2013, the Phrozen printer manufacturing company has released a very large number of resin 3D printers, and its more notable offerings include the Phrozen Make as well as the much larger Phrozen Shuffle 4k. Currently, this pioneering company has returned to its crowdfunding roots to finance its latest resin 3D venture.
How Does It Work?
The Transform Large resin printer employs LCD technology that effectively utilizes projected light rather than a very high-powered laser in order to solidify the liquid resin.
Most conventional SLA printers use laser beams to get the job done. The Phrozen Transform Large on the other hand has taken a leap forward and has come up with some really intriguing features that may potentially usher in a whole new era in the world of resin 3D printing.
Key Features of the Phrozen Transform
This resin 3D printer has plenty of salient features that enable it to stand out in its class. Some of them include the following:
Multiple Swappable Panels
The hallmark feature, as well as USP (unique selling proposition) of the Phrozen, Transform large resin 3D printer is its completely swappable 13.3" LCD panel that can be interchanged with dual 5.5″ panels. This feature basically allows the user to seamlessly print on two entirely different plates simultaneously. This way you can effectively cut your print time in half.
Here it is pertinent to note that just about all LCD and DLP resin 3D printers available today are confined to single-size panels only. This is why the ability to switch in-between multiple configurations makes the Phrozen Transform 3D printing machine vastly different from most of the other resin printers out there.
Moreover, the good people at Phrozen also claim that their aptly named 'Transform' resin 3D printer has been equipped with a "Fast LCD Adaptor", thus allowing you to swap the LCD panels out within mere seconds only.
This feature gives the Transform printer plenty of flexibility as well as speed and thus ensures fast and high quality 3D builds when compared to any other resin 3D printer. This way, you will be able to easily utilize a much larger build volume thanks to the 13.3″ LCD 3D panel.
Alternately, you will be able to double your output by using the dual LCD panels design that gives out accurate information. In fact, just the information you need for making very fine and detailed models such as wearable jewelry.
Large Z-Axis
The Phrozen Transform printer also has a very large 40cm Z-axis when compared to many other resin 3D printers. This means that it is quite capable of printing very large and towering objects that maybe even taller than a two-liter bottle of water or soda. This large axis coupled with the sizable 13.3″ LCD panel can easily handle even very large jobs.
The total build size of this printer is substantially larger than the other printers in the market whose size, typically hovers around 8.9 approx.″ All in all, the Phrozen Transform 3D printing machine offers its users around 29.2 x 16.5 x 40 cm3 of total build volume.
Outstanding accuracy end efficiency
Apart from the extraordinary capabilities of the duel LCD panel system not to mention its impressive print area, there are other features that make the Phrozen Transform a truly outstanding machine. Such as the fact that it has been designed to be a highly efficient and accurate 3D printer.
When it comes to awesome print quality, the Phrozen Transform is second to none. This is because this machine provides a great XY resolution of 76μm when using the 13.3″ panel. Furthermore, the Transform provides an even better 47μm resolution if you decide to work with the dual panel setup.
Better Durability and Stability
Durability and stability are also two very important aspects of the Transform 3D printer. The machine's Z-axis has been well -equipped with a very thick aluminum alloy structure.
Apart from that, it also has dual linear rails complete with ball screws to ensure that the machine keeps printing for many a long year on a rock-steady build platform. This is not something you can find on any budget resin 3D printer.
The company claims that the dual linear rails and ball screw setup can virtually eliminate any sort of wobbling, even as it allows its users to safely and easily adjust the 3D printer's speed.
ParaLED Optical Engine
Another great attribute of the Phrozen Transform printer is its intriguing ParaLED Optical Engine. This feature is used to substantially reduce the overall emission angle of the LCD 3D based light source. This engine is manufactured exclusively by the engineers at Phrozen HQ in Taiwan. When in use, this mechanism has the capability of increasing the overall efficiency of light penetration throughout the entirety of the panel.
Technical Specs
Let us take a quick look at the tech specs of the Transform 3D printer:
3d Printer Specifications
Dual 5.5″ 2K: 4.97 x 2.68 x 15.75 inch or Tray
Build Volume: 13.3″ 4K: 11.5 x 6.5 x 15.75 inch
Printing Tech: LCD
Design: prefabricated metal construction via CNC-machined parts
XY Resolutions
Dual 5.5″ 2K: 47 microns
13.3″ 4K: 76 microns
Z Resolution
Print Speed: Up to 200 layers per hour
13.3″ 4K: 10 microns
Dual 5.5″ 2K: 10 microns
Optical Evenness: Uniform intensity in > 95 percent of mean surface area
Hardware Specifications
Size: 15.16 x 14.02 x 24.29 inch
Weight: 72.75 lbs.
Design: Integrated metal structure with CNC processed parts
Cooling System: Multi-fan cooling system
Z-axis Movement: Ball screws/ Dual linear rails
Sensor: Omron optical end stop sensor
Light: 405nm UV-LED – ParaLED Matrix
Software
Operating System: Phrozen OS 1.0
Support Software: ChiTu Box
System: No limitation
Printing Status: 5″ touch panel
Connectivity: USB, Wi-Fi, LAN
Pros
A highly affordable price
Very fast printing speed thanks to the seamless integration of multiple panels
The ability to build even very large objects due to the extra height of the Z-axis
The ability to print multiple objects at the same time
Rapid panel interchange capability
The Transform can easily print with polymers made by third-party manufacturers
Very sturdy construction
Wi-Fi connectivity
Cons
Less sharp wall outlines when compared to various other SLA 3D printers
Weak power of illumination when compared to DLP 3D printers
The printer is capable of only using polymers meant for LCD printers only
Related
Conclusion
Phrozen Transform may be considered to be an excellent and viable solution to produce all kinds of large and medium-sized models. Apart from that, it can also create small and wearable jewelry. In a nutshell, we can state that the Phrozen Transform 3D printer offers truly exceptional value for its price.
If you were to get the Phrozen Transform printer, you won't regret your decision at all. We hope that you liked this review and will come to see others of a similar nature here.