Since 3D printing is such an amazing supplementary hobby to other hobbies, many aquarium enthusiasts/3D printing enthusiasts may be wondering if PLA is aquarium-safe.
So is it?
PLA is aquarium safe if you treat it with a waterproof coating. If left as is, the PLA will absorb water and slowly disintegrate. While the PLA itself is not toxic(it's in fact biodegradable), there are often other additives and colors in the PLA plastic filament which can be harmful.
How do I waterproof 3D printed objects for an aquarium?
So even though PLA is safe for your aquarium or tank, the best course of action is to waterproof it to prevent any moisture from interacting with it and potentially causing it to break down.
Waterproofing is a fairly common post-processing procedure. It's also not too expensive to do, so it's definitely worth it.
Waterproofing PLA with Spray-on sealant
Spray-on sealant is probably the easiest way to waterproof PLA prints for an aquarium or tank. These sealants are commonly used for windows and other household uses. They form a very nice rubber coating over whatever you spray them on.
To use these sprays, go to a well-ventialted area and lay down some newspaper. Place your 3D printed object in the center and spray from 8-10 inches away, going all around the object for an even coat.
Don't forget to spray the underside, too, as it will also be exposed to water!
Epoxy Resin Coating
Epoxy resin is used for painting and woodworking, but it can also be used for sealing PLA 3D prints.
If you've ever seen a fancy coffee table or craft with a clear, hard, plastic finish, that's usually epoxy resin.
Epoxy resin is a bit more involved than simply spraying on a sealant because you have to mix the resin and the hardener and it takes a little longer to solidify and cure.
However, the seal you get from epoxy resin is incredibly robust and long-lasting, and the finish is better than what you can get from a rubber sealant.
Just remember to get food-safe or non-toxic sealant so you don't inadvertently harm your fish!
Where can I get 3D printed aquarium parts?
Not many people stock readymade 3D printed aquarium parts, but one store I did find was Barr Aquatic. They have a good stock of 3D printed parts for aquariums, and while they're not really decorations, they're great utility parts that you can use for your aquarium setup.
Best 3D printed aquarium decorations
If you have your own 3D printer, you can make some really cool decorations for your aquarium. While a search on Thingiverse will yield hundreds of aquarium-related items, these are our very favorite ones that you should definitely try printing.
The beauty of 3D printing is that you can scale parts up and down as you like, so don't worry if your aquarium is too small for a particular model or too big!
Steamboat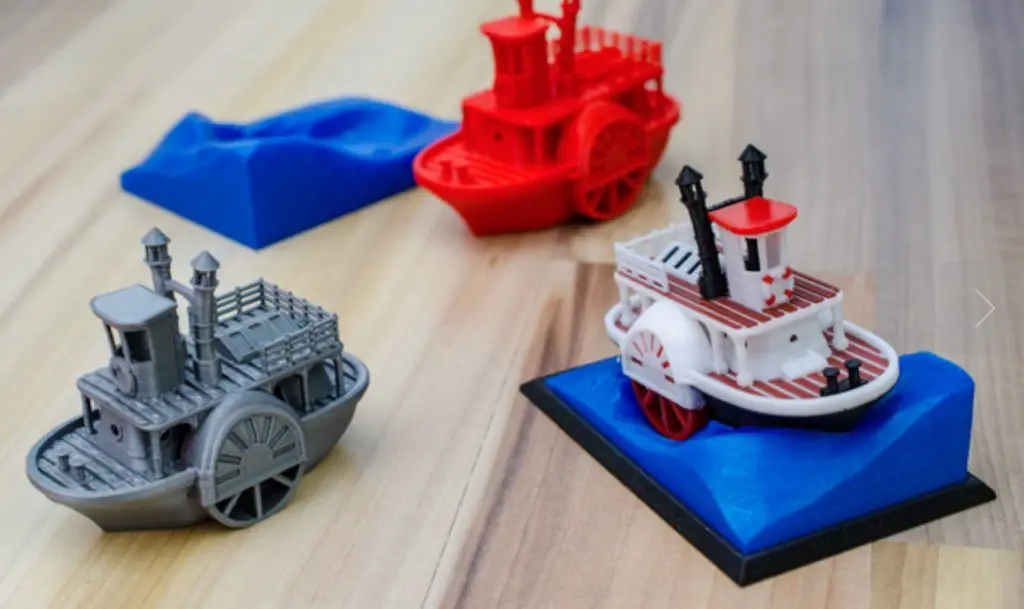 Steamboats are timeless classics and they're often associated with long, relaxed weekends down a winding river.
A steamboat can be the perfect addition to your aquarium to serve as a shipwreck for your fish to swim around and above.
How to print it:
The steamboat model is quite tiny and has lots of detail, so you'll need to have a very dialed-in 3D printer to print it at the original size.
For an easier print, scale up the model to two times its size and then print it.
Guard tower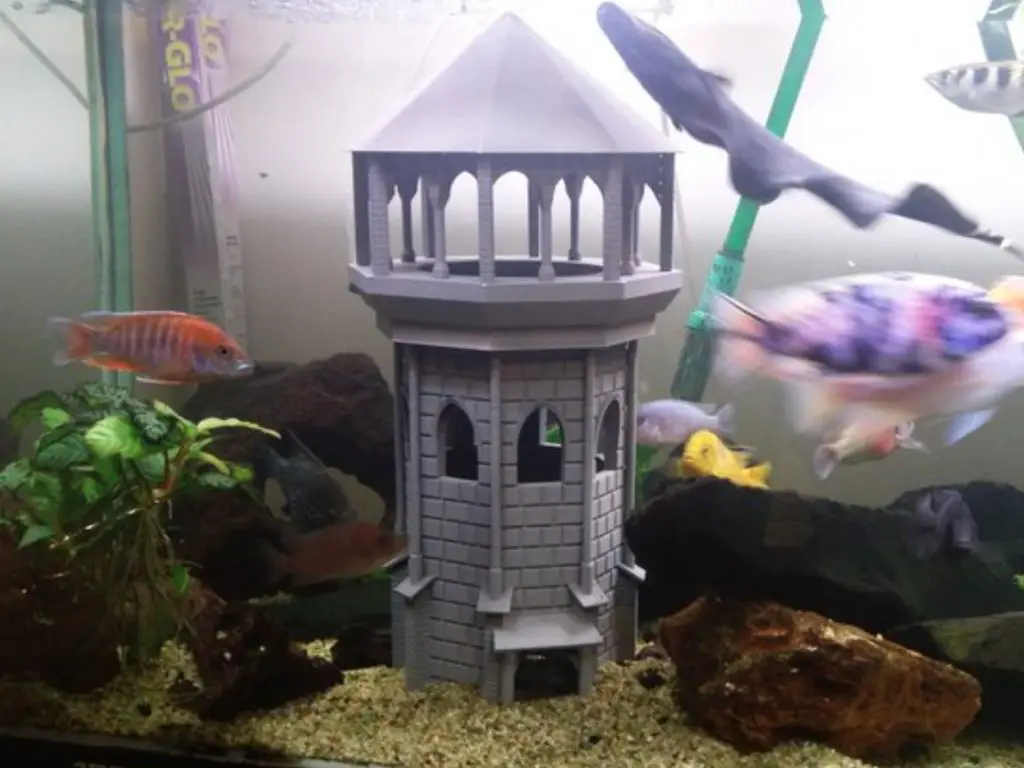 This guard tower is inspired by Age of Empires and makes for a really cool addition to your aquarium especially if you are a gamer.
It's really well-designed and prints in a few separate parts that you have to glue together. There is a lot of empty space in the model, so you may need to weigh it down to get it to stay in place.
If you do the epoxy coating as discussed above, then you should have no problem getting the model to stay down.
How to print it:
This is a pretty straightfoward print on the whole, but you'll need to use supports on the top part of the tower with the thin arches.
Aside from that, it should print like a charm.
Pirate themed objects
What underwater decoration is complete without an ARRR and a pirate?
Pirate ships, pirate hats, or even miniature pirates themselves make for good plunder for your aquarium.
If you're really into pirates, you can even print treasure chests, coins, swords, and even skeletons to really go all on board with your theme!
Find pirate-themed prints here
Which 3D printing filament materials are safe for an aquarium?
On the whole, PETG is actually a better bet for an aquarium than PLA because it's more resistant to water and does not decompose quite as easily. It's also food-safe.
Below, we've listed our favorite PLA and PETG filaments for you to use in your aquarium.
Hatchbox PETG
Hatchbox puts the PETG in PETG filament! With Hatchbox filament, you'll get uniform cross section and fibrilar durability–no more hassle with brittle plastics like ABS filament. The premium materials means this is your most reliable 3D printing material out there; it can be printed 230 to 260 degrees Celcius without any need for cooling; plus, the 1 kg spool is priced low enough that you could afford to try all of the many colors (and discover your favorite!). It's also food-safe, as the PET in PETG is what all soda bottles are made of.
Prusament PLA
Use the good stuff – Prusament PLA filament. It's durable, reliable, and has an excellent bed adhesion that gives builders rock-solid prints every time. Legendary Prusa Research is one of 3D printing industry pioneers for quality printers & what couldn't be better than some premium-quality filament? Heck yeah!
What other things can you 3D print for an aquarium?
If you checked out Barr Aquatic, you'll see the many different kinds of 3D printed items they have for your aquarium. Your'e not just limited to decorations. You can print brackets, fittings, holders, lids, and so much more.
Can you print aquarium-safe parts in ABS?
PLA and PETG are good choices for aquariums, but what about ABS? ABS is also fine to use for your aquarium as it is quite unreactive.
The only disadvantage of ABS is that it's not very safe during the 3D printing process unless you have a fume hood to suck all the toxic gases that ABS releases when melting.
Conclusion
PLA filaments are indeed aquarium safe as long as you take the proper precautions when printing and finishing your 3D printed model. PLA is highly hygropohopic and biodegradable, so if you don't prevent the water from getting in somehow, it's bound to disintegrate.