Looking for a 3D printer, but not sure if you have enough space?
We've compiled a list of the 5 best small 3D printers on the market. These are perfect if you're looking to buy a new printer that will fit in your home or office, and they all offer different features that make them unique.
Desire: Our buyer's guide will help you decide which one is best for you! Read about size considerations, what type of filament each machine can use, and more.
You'll be able to find out everything you need before making your purchase decision.
Best Mini/Small 3D Printers
1. Original Prusa Mini Plus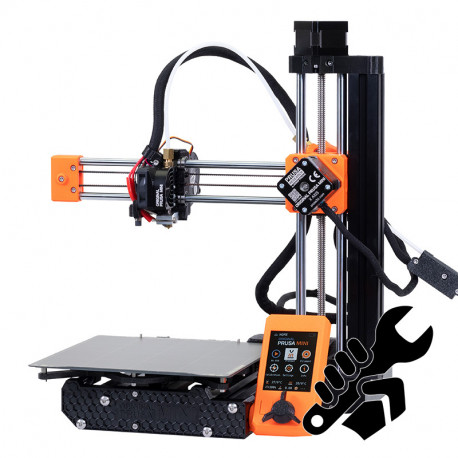 The Original Prusa Mini Plus is a 3D printer with a small footprint and an impressive range of capabilities.
It's not like it's big brother the i3 MKS, (read our Prusa i3 MK3S+ review or check price) but it is a monster if you're looking to start a 3D printer farm.
This printer comes as a kit, which means it requires assembly before use. It offers high quality prints, but does not offer WiFi or touchscreen capability.
The Original Prusa Mini Plus has some nice features that make it stand out from the crowd:
It has a heated bed for ABS printing
A generous build volume for the size (110x145x130mm)
A modular design to allow users to replace parts easily and quickly on their own if need be. The extruder can also be swapped out for different nozzles depending on what type of filament you want to print with more easily than other models on the market.
If you want a printer that will fit in tight spaces or move from one office/home to another, this is a good option for you.
In conclusion, the Original Prusa Mini Plus offers great value for money and a lot of features compared to competing 3D printers which generally come in at a much higher price point, so if you're looking for a small 3D printer to fit in your space you can't really go wrong with this one.
Features
180 x 180 x 180mm build volume
Flexible build plate
32 bit controller
Buy direct from Prusa Research
2. XYZ Printing da Vinci Jr. 1.0 Pro
The XYZ Printing da Vinci Jr Pro is a new generation printer – among the best small 3D printers. It's compact, sturdy, and easy to use with a touchscreen interface that makes it simple for everyone to create their own 3D objects.
The da Vinci Jr. 1.0 Pro is equipped with all the features and performance of XYZ Printing's award-winning da Vinci line. It is a low-noise, compact and stylish machine that is perfect for any office environment or education institution. Plus, its sleek design and small footprint will look great in any room.
The da Vinci Jr. 1.0 Pro is one of the smallest 3D printers on the market, but it still offers a solid steel structure for exceptional stability, making it ideal for creating objects with various shapes and sizes without losing its rigidness or durability.
The touchscreen interface makes it simple for anyone to create 3D objects. It takes much of the guesswork out of using a 3D printer, allowing you to focus on creativity instead of figuring out how the machine works.
With its built-in software, da Vinci Jr. 1.0 Pro is easy to set up and use. You can start printing 3D objects right out of the box in just a few minutes after you unpack it.
Weighing only 19 lbs., da Vinci Jr. 1.0 Pro is one of the most compact 3D printers on the market, allowing you to fit it in small workspaces.
Plus, it is compatible with most operating systems and doesn't require you to purchase any additional software for printing.
The da Vinci Jr. 1.0 Pro comes at an affordable price that makes it possible for anyone to get their hands on a 3D printer and expand their creative horizons without blowing their budget out of the water.
Features
175 x 175 x 175mm build volume
Upgrade to hardened steel nozzle or laser engraving toolhead
Auto bed leveling
Compatible with 1.75mm filaments
3. Monoprice Maker Select Mini V2 Review
The new Monoprice Maker Select Mini V2 3D Printer was designed with simplicity in mind. Although it's marketed as a starter printer, its small size also makes it suitable for advanced hobbyists who want another 3D printer to fit in a small space.
In this Monoprice Maker Select Mini V2 review, we'll show you how it performs and explore its many features.
This is a smaller, less complex version of the popular Monoprice Select Mini 3D printer that's targeted toward novice users. It's a great place to start if you've never used a 3D printer before, but don't want to spend too much money on your first foray into the hobby.
The Monoprice Maker Select Mini V2 offers users several significant improvements over the company's original Select Mini printer.
For example, it features an improved hot end that includes a metal heat sink with a cooling fan built-in, which helps produce better print quality. The print bed has also been redesigned to be more stable when in use.
One of the most significant improvements on this printer is the heated aluminum print bed. The new Mini Select V2 is a much more solid printer than the original Mini Select, making it simple to produce a great 3D print.
In addition, the Maker Select Mini V2 3D Printer includes several safety measures. It's been designed to reduce both fire and electric shock hazards through proper insulation, as well as restricting access to some of the printer's internal components.
This is intended to ensure that children can't inadvertantly disassemble the printer and cause a short circuit or shock hazard.
The Maker Select Mini V2 is one of the only 3D printers that we evaluated that features safety-rated insulation.
While this model isn't as safe as other printers on the market, Monoprice does appear to care about safety.
Although it's designed for entry-level users, the Maker Select Mini V2 3D Printer offers advanced features found on more expensive models.
For example, it can comfortably 3D print using either ABS or PLA filament, and has a heated aluminum print bed with a removable glass plate.
You can comfortably go down to a resolution of 0.1 mm.
While the Maker Select Mini V2 offers many capabilities, it's not without its faults. In particular, some users complained that the printer arrived with a defective power supply and missing nuts and bolts — which required them to purchase replacement parts before using the device.
Others reported that the printer was difficult to assemble and that it didn't include a full spool of filament, which made it impossible to use right out of the box.
Features
All-metal nozzle
3.7-inches large LCD Touchscreen
Heated plate
Wide range extruder temperature
Build Volume: 120 x 120 x 120mm
Weight: 14.10 pounds
USB: Yes
Heated bed: Yes
SD Card: Yes
4. Tronxy X1S
The Tronxy X1S is a low-cost 3D printer from China, sold under many names. It is best suited for printing small items, but for larger models, you'll need one of the more expensive printers that have bigger print beds.
This review will focus on what makes Tronxy X1S a good printer and how to build one if you choose this machine instead of pre-assembled printers.
There are quite a few websites selling this machine, so be careful to get it from a reputable store.
If you ever have any issues, they can help you more than if you purchased it from Ebay or Aliexpress.
The Tronxy is a good entry-level 3D printer, and it can be bought for less than $250.
It's not the first low-cost printer with a heated bed, but it has some unique features that make it stand out from other machines in this price range.
Just like most Chinese printers the Tronxy X1S are sold under various names, including the Monoprice Maker Select Plus, Wanhao Duplicator i3, PowerSpec 3D Pro, and many others.
The kit includes everything you will need to get the 3D printer up and running. It comes with a power supply, an Arduino Mega 2560 board that mounts on the back of the printer, and a collection of screws and bolts.
The kit does not include some common tools you will need to build the machine, such as Allen key (Hex key), screwdriver (Phillips head) or wrenches.
The Tronxy X1S comes with a 12V / 5A power supply that fits inside the control box. The power supply is powerful enough to run the printer, but it has rather short cables that are not very convenient for moving around.
Features
Build Volume (mm): 150 x 150 x 150
Compatible with Third-Party Material
Filament Diameter (mm): 1.75
Printer Size (mm): 340 x 365 x 350
5. Flashforge Finder
The Flashforge Finder is perfectly suited to the novice 3D printer buyer. It's very sturdy, simple to put together, and comes with a great user manual that makes calibration almost unnecessary.
Whether you are making toys for your kid or printing novelties to sell on Etsy, the Finder can do it all. And at a decent price, it's not too hard on your wallet.
The printer uses a Heated Build Plate to ensure that prints stick well, and it has an auto-leveling feature which makes getting good results much easier. The plate slides in and out of the 3D printer so you can easily remove your prints.
We found its print quality pretty good in our tests, delivering decent speed and good accuracy. But keep in mind that the Finder is not exactly a speed demon, so printing large objects could take hundreds of hours.
The Flashforge Finder doesn't come with an SD card which means you will have to connect it directly to your computer via USB or use a USB flash drive every time you want to print something.
If you are looking for a budget 3D printer with great capabilities, the Finder should be at the top of your shopping list.
Features
Plastic-alloy body
3.5-inch full-color Touchscreen
Slide-in build plate
Wi-Fi
USB connectivity
Build Volume: 140 x 140 x 140mm
Weight: 24.3 pounds
Heated bed: No
6. Tiertime Cetus MK3
The Cetus MK3 is a small 3D printer built to print tall objects. Even though the footprint is rather small, it can go up to 11 inches high, which is actually larger than what most mid-size 3D printers can manage!
One of the biggest advantages of the Tiertime Cetus MK3 is the linear rails on the axes. Linear rails provide very smooth motion and the result is very accurate, quiet, and smooth 3D printing.
You get 3 nozzle options: 0.4mm, 0.6mm, and 0.2mm. This gives you a decent amount of variety to choose from depending on if you are looking for general 3D printing, highly detailed models, or quick-and-easy parts.
There are two glaring disadvantages of the Cetus MK3, though. First off, the printer is closed source and can't read gcode, so you will have to use a proprietary slicing software to get it to work.
Second, the base model does not come with a heated bed. Not having heated beds was acceptable a few years ago, but it's really a must in modern 3D printers. The heated bed is available as an addon, but that seems like extra money for something that should have been included out of the box.
The Cetus MK3 can handle nearly all 3D printing filaments if you get the version with the heated bed: ABS, PLA, Wood-Polymer, Bronze/Wood, and TPU.
Features
Print volume: 7″ x 7″ x 11″
3 nozzle sizes
Linear rails
Multi-point bed leveling
Wifi
Easy-remove print surface
7. Lulzbot Mini 2
From toys for your children to replacement parts for the car, there is always something in need of a 3D printer. When it comes down to choosing one of the best small 3D printers on the market today, one model really shines: the Lulzbot Mini 2
This machine has everything that an average person would need in order to create their own designs with ease; features like auto-leveling make this device stand out among other models.
With its open-source hardware and software, anyone who wants to start 3D printing will find that they are able to do so with the Lulzbot Mini 2.
The Mini 2 is a power 3D printer thanks to the E3D aero extruder and hot end that is capable of handling nearly any filament you throw at it.
This device works best with Cura LulzBot Edition software that can be used to start slicing your first 3D models.
The Mini 2 also has an open filament cooling duct for the filament you use, which will allow users to print with flexible materials without having to worry about them sagging during prints or warping.
You also have features like auto-leveling and self-cleaning which make the Lulzbot mini one of the most plug-and-play printers out there.
The only disadvantage is the extremely steep price tag. The Lulzbot costs almost as much as all the other 3D printers on this list combined!
However, you're getting solid value for money, so if you have the budget, definitely choose the Lulzbot.
Features
Titan E3D Aero Hotend
Reversable PEI/glass heated build plate
Self-cleaning and self-leveling
LCD Screen
GLCD Controller for tetherless printing
Build Volume: 160 x 160 x 180mm
Weight: 26.5 pounds
SD Card: Yes
USB: Yes
LCD Printing: Yes
Small 3D printers Buyer's Guide
Size
Size and weight are the main considerations that you'll need to keep in mind when shopping around for a small 3D printer. Models like the Tronxy X1 and the Monoprice Maker Select are really tiny and make for very good mini desktop 3D printers.
The only trade-off you'll have to make with size is that you won't be able to print objects beyond a certain size. Mid-size 3D printers with 200 x 200mm beds have become the norm, and there are many models out there that need a bed of that size to 3D print.
You'll also need to do multiple prints if you are making many objects. Larger beds do allow for printing more objects at once, but if the 3D print fails, 10 objects will fail at once!
Still, at Makershop, I believe that a 3D printer is better than no 3D printer, so if you don't have the room for a larger machine, get a small one and get into the hobby!
Heated bed
It really bugs me that manufacturers are still making 3D printers that don't have heated beds. They're not that costly to incorporate, and a heated bed makes a huge difference in what you're able to print.
Without a heated bed, you'll really only be able to 3D print with PLA. Most other materials require heated beds for bed adhesion.
Price
Finally, the last and perhaps most important consideration when buying a small 3D printer will be price.
The cheapest models are the Tronxy X1 and the Monoprice Maker Select, and those are great for getting started.
The Da Vinci and Flashforge are great for using with kids are they're quite enclosed and much more ready to go out of the box.
Power users will want the added reliability of the Lulzbot, though, which will come at a cost.
Related: best 3D printer under $300 | Under $1000
Conclusion
If you're looking for a small 3D printer, there are many options to choose from. Small 3D printers are a great way to get started in this amazing hobby.